NPP needs spiritual bath to see the light - NDC MP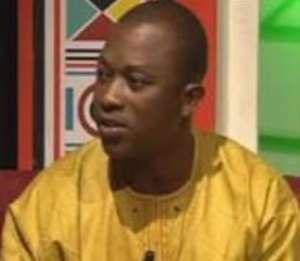 Theophilus Tetteh Chaie
National Democratic Congress (NDC) Member of Parliament for Ablekuma Central, Theophilus Tetteh Chaie has called on renowned prophets in the country to organized special prayer and fasting sessions for the New Patriotic Party (NPP) to open their eyes to reality.
According to him, the NPP is refusing to accept the fact that John Mahama is the elected president and thus he believes the only way for them to see the reality is through "spiritual bath".
Theophilus Tetteh Chaie made the recommendation when commenting on the recent walk out by the minority Thursday.
The NPP MPs walked out of Parliament when President Mahama was about to deliver his maiden State of the Nations Address because they [minority] claim they won't endorse illegality.
The minority MPs whose party flagbearer, Nana Akufo-Addo and two others have filed a petition as the Supreme Court challenging the outcome of the 2012 general election are optimistic the court will rule in their favour.
But their conduct has been condemned by their majority counterparts who have vowed not to allow the minority to hold the entire nation to ransom.
Speaking on Asempa FM's Ekosii Sen programme Friday, Theophilus Tetteh Chaie minced no words describing the NPP as a confused party.
He said decisions taken by the leadership of the opposition party and their minority in Parliament will in the end come to haunt them.
The NDC insists that the NPP under the guise of seeking justice in court are bent on making the country ungovernable.
Tetteh Chaie said unless God intervenes, the NPP will continue to live in a state of delusion and mislead their members into believing that they will win the case in court.
He vehemently advocated for a freeze in salaries of the minority MPs to serve as a deterrent to others.
In a quick rebuttal, Deputy Communications Director of the NPP, Samuel Awuku dismissed Tetteh Chaie's claims describing it as "propaganda as usual".
He explained that boycotts and walkouts are legitimate tools used by MPs to register their displeasure therefore the minority cannot be faulted for doing same.
Sammy Awuku urged the minority to ignore NDC MPs because "they are suffering from deliberate memory loss".