Drama, excitement and thrills as GPL returns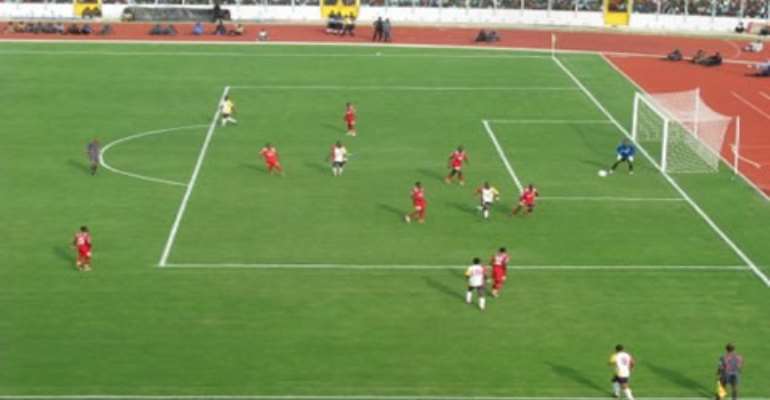 The resumption of this year's Glo Premier League was perhaps welcomed with heightened anticipation, not least because a few local players had been given the chance to represent Ghana at the 2013 African Nations Cup tournament in South Africa.
The general expectation was that every player in the local league would do his best to attract the attention of Black Stars head coach Kwasi Appiah. Well, over the weekend, match day 16 of the Glo Premier League took place and this piece will attempt to do an analysis of all that happened.
The Black Satellites factor
Clubs demanded the release of their players in the Black Satellites camp for the weekend's matches; a demand that was agreed to by the team's handlers despite the fact that the team is preparing for next month's African Youth Championships in Algeria.
The decision to release the players ultimately benefited the club's concerned with some of them exhibiting superlative performances that could earn Black Stars call ups; never mind Black Satellites. I will begin with Tema Youth's demolition job on league leaders Medeama SC.
Moses Odjer, who is indeed a live-wire in the Satellites' midfield, put in an excellent performance whilst Jeremiah Arkorful and Joshua Oninku were also majestic at the back, but Satellites head coach Sellas Tetteh will be heartened by a man-of-the-match performance by striker Francis Narh.
The young forward did everything right on the day; scoring twice and giving two assists as Tema Youth won 4-0. In the six goal thriller in Kumasi, one of the best players on the field was another Satellites forward Ebenezer Assafuah Inkoom, who tormented the Asante Kotoko defence time and again and was a major reason why Kennedy Ashia got two goals and nearly won three points for Liberty Professionals.
Again, Satellites midfielder Michael Anaba was brought down for Kotoko to secure the much needed equalizer through a penalty.
Emmanuel Gyamfi played a pivotal role as Wa All Stars defeated Heart of Lions 1-0 and Black Satellites captain Lawrence Lartey was at the heart of superb rear guard action as Ashanti Gold, under new head coach Bashir Hayford secured a valuable point at Berekum against Chelsea.
Have Hearts of Oak rejected gems?
You would recall that Hearts of Oak head coach David Duncan performed major surgery on his squad ahead of the second round and indeed to some, some of his decisions bordered on the extreme, with talented players like Prince Attakora Gyimah and Isaac Ofori shown the door.
Interestingly enough, Ofori scored on his first start for Amidaus Professionals whilst Attakora Gyimah scored the winning goal for Wa All Stars.
Hearts scraped past King Faisal with a Robin Gnagne penalty, but only time will tell if the 'stones' Hearts of Oak rejected will become the cornerstone of other clubs.
Should Medeama SC have given Bashir Hayford more money?
Bashir Hayford led Medeama SC to top spot at the end of the first round, but he has long endured a difficult relationship with his bosses. Indeed, there were reports that the Medeama SC hierarchy was contemplating giving him the sack last season, but he was eventually retained.
With just a few months to the expiration of his contract, he was poached by Ashanti Gold and Medeama SC quickly promoted assistant Shaibu Tanko into the hot seat, at least until the end of the season.
Tanko has since experienced an unpleasant baptism of fire as he saw his side comprehensively thrashed by Tema Youth on Sunday afternoon. Hayford was seen by some top dogs within Medeama SC as being stroppy and rude, but with the kind of track record he has, one wonders whether he couldn't have been better man-managed.
Well, time will tell whether Medeama SC should have broken the bank to keep him, but Tanko could prove himself too in the remaining 14 matches.
RTU's lack of motivation; one way ticket to division one
Earlier in the week players of Real Tamale United threatened to boycott the rest of the matches because they had not been paid some allowances due them.
The fact that they played against Amidaus Professionals would seem to suggest that the club's management was able to sweet-talk them into taking part in the match, but there is a saying that you can drag a donkey to the river, but you can't force it to drink water.
Perhaps, players of Real Tamale United have mentally prepared themselves for a quick return to division one and that could have accounted for the limp performance in the 1-3 loss to Amidaus.
Let's face it; 5 points from 16 matches is hardly an inspiration for an escape from relegation 'Sobibor'. So the Pride of the North seems to have decided to book a one way ticket to division one, unless the unexpected happens.

Attending nature's call in the line of duty

Speaking of the Kumasi game on Saturday, there was general laughter when Amidaus goalkeeper, Eric Antwi Ofori had to leave the match after 30 minutes to attend to nature's call.
He was away for 4 minutes, during which time the game was brought to a temporary halt.
Apparently the laws of the game state that the game cannot go on in the absence of a goalkeeper from any one of the two teams competing. I am told he had a running stomach. In as much as I would love to join in the merriment, I would rather empathise with Ofori because, believe it or not, it also happened to me over ten years ago.
It was during TV3's live coverage of the 2002 FIFA World Cup and I was one of the anchors for the matches. One match had ended and I was expecting my producers to call for a commercial break but nothing happened, Here I was chatting with my guests and I suddenly felt the urge.
Eventually, on air I must have said something like 'control room help' because I was desperate. At long last the commercial break was called and the speed with which I rushed to the toilets would probably have matched UsainBolt's 100m world record. It was clearly not my finest hour, putting it mildly.
On a more serious note, I can only hope that other goalkeepers in the Premier League do not use Ofori's predicament as an excuse to create an artificial time out for teams.
All in all, it has been an exciting return to GPL action and we can only hope that more and more talents prove themselves by the time the season is over.

Story by Footy-ghana/Christopher Opkoku