Mali Islamists have 'destructive power' of army: colonel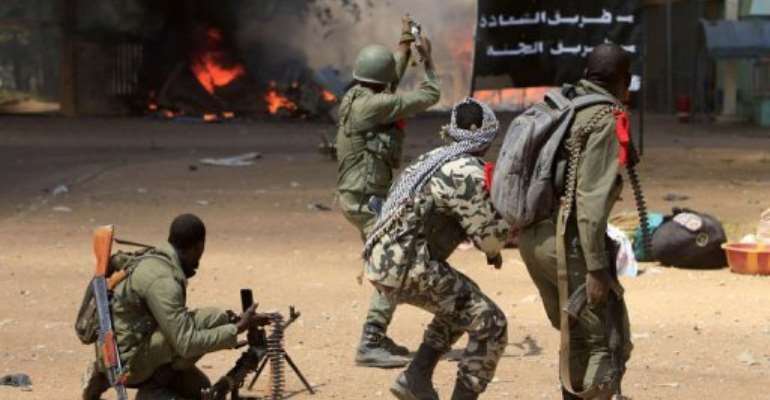 GAO, Mali (AFP) - Islamists in northern Mali have the "destructive power" of an army, a top Malian colonel said Sunday, while showcasing weapons seized in Gao since French-led forces retook the city last month.
"What we have here, it's indicative of an army, or groups that have the capacity of an army," said Gao commander Laurent Mariko, showing the stockpile of weapons to reporters.
Al-Qaeda-linked armed Islamists had occupied Gao, the north's largest city, for nine months before the French and Malian forces retook it on January 26 in a lightning offensive that drove radical fighters from major cities.
But since fleeing Gao under the French-led advance, militiamen regrouped on its outskirts and infiltrated the city a few days ago to attack the Malian forces newly in control.
The stockpile on display Sunday included US-made M-16 assault rifles, Czech-made sniper rifles, Russian-made rockets and Malian army uniforms.
Mariko said the weapons -- which were seized by the Malian special forces, the French army or groups of "young patriots" -- had belonged to the Malian army, as well as the Senegalese gendarmerie or other neighbouring countries.
"The impression we have is that they and we (the Mali army) have pretty much the same weapons, except for the third dimension, aviation, which they don't have," said Colonel-Major Didier Dacko.
"They also have armoured vehicles, but we realised that they don't know how to use or repair them," he added.
The under-equipped Mali army was put to the test last year by armed groups, mainly Islamists, who according to several sources procured heavy weaponry in Libya.
Thanks to the fall of long-time Libyan dictator Moamer Kadhafi, who died in 2011, the armed groups were able to get hold of arms from his considerable arsenal, the sources said.
In April of last year, the Dakar-based human rights group RADDHO said that "thousands of rebels" left Libya "with 35,000 tonnes of weapons" and could have entered Mali.
The Al-Qaeda-linked Movement for Oneness and Jihad in West Africa (MUJAO), which ruled Gao before the French-led offensive, has since unleashed Mali's first suicide attack.
It claimed a car bomb attack on Thursday near a camp occupied by French and Chadian troops in the northern city of Kidal in which at least two civilians were reported wounded.
The French-led forces are increasingly facing guerrilla-style tactics after initially meeting little resistance in their drive to oust Islamists from the main northern centres of Gao, Kidal and Timbuktu.
On Friday, fresh fighting erupted in the mountainous Ifoghas region. The Chadian army said that 23 of its troops and 93 Islamists died in the clashes.
Tuareg militias battled Arab rebels in northern Mali Saturday, while French jets, US drones and Chad's elite desert forces were also in action in a major push to stamp out resistance from pockets of Islamist fighters.
A travel advisory posted on the French foreign ministry's website said Saturday that France's intervention in Mali "may have repercussions on the security of French residents or tourists" in Benin and other nations in the 15-member ECOWAS bloc of west African states.
Conflict-torn Mali will be on the agenda at the 22nd session of the UN Human Rights Council, which kicks off Monday.
There have been reports of widespread human rights abuses, including by Malian troops which with France's help have been struggling to expel Islamists from the vast northern territory the militants seized last April.
France has asked the UN Security Council to quickly deploy observers to oversee the human rights situation in the country, and NGOs in Geneva expect the rights council to adopt a resolution on this issue.