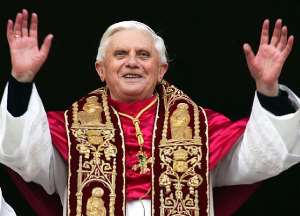 Pope Benedict XVI
Pope Benedict-XVI, head of Catholic Church will bid adieu and who will take his place has become a matter of debate in the Catholic Church.
His sudden resignation has surprised the whole Catholic world. His resignation has come at a time when Catholic Church is mired in various inbound problems within the Church system. Pope has constantly displayed his concern over slackening, moral deprivation and indiscipline in the Church.
The faith in Catholic system is constantly waning and this why he had announced this year as a 'Year of Faith'.
Pope Benedict, when assumed this post eight-years-ago on April 19, 2005 had raised hope about changing laws and regulations particularly on the issue of sexual harassment of children that involved litigation and Church had to furnish big compensation. Worst part was that his detractors accused him of colluding with such elements to suppress these cases.

However, he kept moving with his obsession towards piousness. He opposed use of contraceptives and artificial pregnancy. He also opposed abortion. A Catholic newspaper 'The Universe' editor Kevin Raferty termed him as an obdurate person for whom modern traditions had no place in his life. He did not give any concession on these issues.
Many European countries such as Ireland, Poland and Spain started criticizing him on adopting opaque policies on sexual abuse of children within the Church. Pope even constituted a committee to inquire these allegations which angered Irish government and Irish parliament considered it as an intrusion in internal affairs. Disgruntled Vatican called its representative from Ireland. Vatican is an autonomous state so it has representatives in most of the countries in the world including India.

Spain legalized abortion and homo-sexuality. There is a strong demand for the marriage of old-age priests. Many Bishops are pressurizing to slacken the rigid laws of Church. Conrod Allest, Christian scholar says, "Anybody can easily see downfall of Christianity. Presence of people in Churches has come down to 5-10 percent. Nobody wants to be a priest. Many cathedrals which used to keep three priests had no priest at all. They have to call a guest priest even for Sunday mass. However, Church is very active in a country like India to bridge this gap. Inter-religious debates are decreasing. Vatican accuses others for every human mistake in order to prove supremacy. In India Church has been successful to run its imperialism and inter-religious debates with Hindus cordially.
Common Catholic people are stunned to see lifestyle of priests. Even pope dresses like a king. This year civil society in Italy has demanded to impose tax on the church income and property. This will ease burden of tax from the common people. One-fifth of total property in Italy is directly under the control of Church and it pays no tax at all because of a Holy Sea Accord signed in 1930.
Main opposition party and newspapers have demanded to impose tax on Church property. Church has huge income from real estate. In Rome alone it earns 2.55 crore Euros in a year. National Union of Municipalities in Italy has told that if tax is imposed on church property, government can easily earn 50-70 crore Euros annually.
Whoever follows Pope Benedict-XVI will have huge challenges. He was beacon of light for millions of Catholics around the world. But, Vatican riddled with own problems had no solution to offer. In India, Dalit Christians are leading frustrating life within the Church system. But, no pope has acknowledged this fact. Many people consider Church is riddled with old customs and traditions and it has gone two centuries backwards.
We hope new Pope will have will power and faith who will have power to change Catholic system from top to bottom. The beginning in this direction has already started in Europe.
R. L Francis
President,
Poor Christian Liberation Movement (PCLM)
Ph. 9810108046