'Real peace' elusive in Sudan's Darfur 10 years on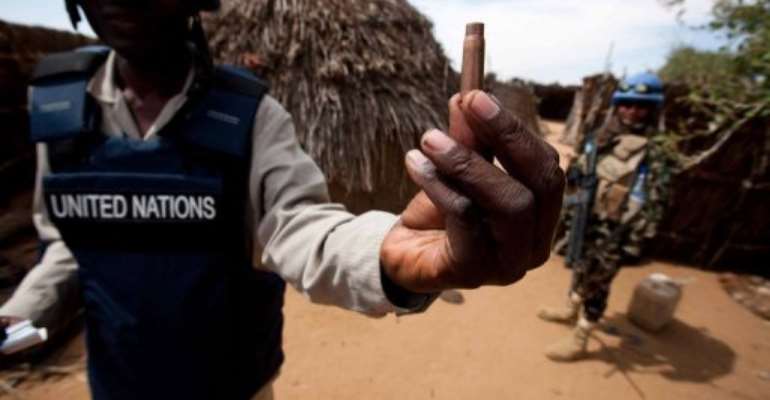 KHARTOUM (AFP) - The world may have tired of the civil war in Sudan's Darfur but for Fatima there is no escape from its painful legacy, a decade after fighting began.
"I remember the day my village was burned by Janjaweed and they killed my husband and my eldest son," says the 47-year-old woman who has spent 10 years with what is left of her family, surviving on handouts in a camp for the displaced.
She was too afraid to be identified by her real name.
Ten years ago on Tuesday, rebels from black tribes seized the town of Golo in Darfur's Jebel Marra region, seeking an end to what they said was the domination of Sudan's power and wealth by Arab elites from the country's Nile River northern districts.
In response, the government-backed Janjaweed militia rode in on horseback, shocking the world with atrocities against ethnic Africans.
Even though the worst of the violence has long past, instability still plagues Sudan's far-west region.
"Now we are in neither a real war, nor a real peace," says a civil society activist in North Darfur state, where violence has surged in recent months.
Two peace agreements over the years have failed to end the rebellions but Darfur's top official, Eltigani Seisi, says security has greatly improved across most of the region.
"I think one of the key problems in this country is the imbalance between the periphery and the centre," a foreign diplomat said.
An estimated 300,000 people may have died and more than 2.7 million were displaced during the height of the Darfur tragedy, the UN said five years ago.
The conflict led to International Criminal Court arrest warrants for Sudan's President Omar al-Bashir, who is sought for alleged war crimes, crimes against humanity and genocide.
The UN's World Food Programme (WFP) says 1.4 million people like Fatima are still living in camps for the internally displaced and will need monthly food rations this year.
"It remains in a humanitarian crisis," says WFP's Amor Almagro.
Darfur, though, has long faded from the world's attention.
"I feel like Darfur is not forgotten but I would say it is ignored," a humanitarian source said.
The camps have come to resemble urban communities, where residents live in conical thatched huts and mud-brick buildings, with access to schools, water and health clinics.
"Life in the camp is so crowded", says Fatima, who misses the "family" atmosphere of her village.
Refugees say continued instability prevents them from going home.
"Now the situation is getting worse, especially over the past two years," the civil society activist said.
Another 100,000 people were displaced last month by fighting between two Arab tribes in a gold mining area, illustrating the changed nature of Darfur's conflict.
After their initial abuses, the Arab militia later turned to kidnapping, car-jacking and then began attacking each other -- "out of control" of the government, humanitarian sources say.
"Where is the peace to be kept?" one humanitarian source asked. "It is war-keeping."
But things would have been "much, much more precarious" for Darfur's civilians without the deployment five years ago of the African Union-United Nations peacekeeping mission (UNAMID), said Dane Smith, the United States administration's senior adviser for Darfur.
Abdel Wahid Mohammed al-Nur, who began the rebellion, says Darfuris are still "killed, raped, driven from their land."
Nur heads a faction of the Sudan Liberation Army. In 2011 his group, along with other Darfur rebels who have been fighting for 10 years, formed the Sudan Revolutionary Front (SRF) with insurgents from South Kordofan and Blue Nile.
Together, they want to topple the Khartoum government.
The current system "is based on hatred, hatred!" Nur said, spitting out his words over the telephone in a rare interview.
Nur and the other main rebel groups reject a peace deal signed two years ago between the government and an alliance of rebel splinter factions.
Jonah Leff, of Small Arms Survey, a Swiss-based independent research project, says the link SRF created among Sudan's rebels shows that "only a holistic approach will yield any positive results" towards resolving the conflicts.
Seisi disagrees with analysts who say the Darfur problem cannot be solved apart from the country's other conflicts, in South Kordofan and Blue Nile states.
But he said the international community, years ago, refused to tackle the Darfur issue because it was pre-occupied with southern Sudan, which separated in 2011.
He says SRF is supported by the new nation of South Sudan, and Darfur should not be used "as a card in the negotiations" to resolve tensions between the two countries.
"These are two different things," he says.
While politicians wrangle, the rebels and militias fight, but the hopes of Darfuris like Fatima remain unrealised.
"I want to go back to see the graves of my husband and my son. Their bodies were buried in my village," she says.