Gomoa West Hails Benyiwa-Doe's Appointment As Member Of Council Of State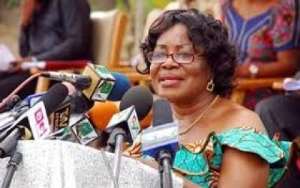 Caretaker Central Regional Minister, Ama Benyiwaa Doe
There was wild jubilation at Apam, capital of Gomoa West on Wednesday when the announcement was made that Mrs Ama Benyiwa-Doe's has been appointed as a Member of the Council of State.
Mr Theophilus Aidoo-Mensah, District Chief Executive (DCE) told the Ghana News Agency, he was grateful to President John Dramani Mahama for the honour done to the former Central Regional Minister.
He said with Mrs Benyiwa-Doe as a Council of State member, she would be in a position to collaborate with Mr E.K.T Addo who succeeded her to bring a lot of development projects to the Region.
The DCE appealed to chiefs in the Region to rally behind the two personalities to accelerate development.
Mr Aidoo-Mensah commended Mrs Benyiwa-Doe for being the first woman to head the Region and also being the first member of the National Democratic Congress (NDC) to complete a four-year term.
The DCE also commended her for reactivating the Central Regional Development Commission which has brought on board a lot of development projects.