Mahama Must Sack AG—Tarzan Barks Wild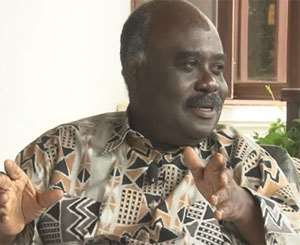 Dr Charles Wereko-Brobbey
Former boss of the defunct [email protected], Dr. Charles Wereko Brobbey is calling on President John Mahama to immediately sack his Attorney General, Marietta Brew Appiah-Oppong.
According to him, the new AG cannot serve the public interest in the legal tussle of the State versus Businessman, Alfred Agbesi Woyome.
The Attorney General's partner at her private firm, Tony Lithur has been recommended to the Ghana Bar Association (GBA) for sanctioning after the firm led a foreign company to make false claims in a Ghanaian court.
Dr. Wereko Brobbey who is also a leading member of the New Patriotic Party (NPP) stated that Mrs. Brew Appiah-Oppong will bring to naught the work of the Sole Commissioner whose findings will ultimately be reviewed by her office.
He explained saying, "the lady was a senior member of Lithur's firm, she is now the Attorney General and she has to represent the State. It is not possible. There is guilt by association. I am not talking about her as an individual; I am not impugning her integrity but transparency requires that such things must be avoided at all cost."
"If she seeks to be a Minister, the President can by all means make her a Minister for something else but not jump from one side where she is representing the interest of companies associated with Woyome and has become the principal state defender in this matter," he added.
He further mentioned that no matter how principled Marietta Brew Oppong-Appiah is, the interest of the state will not be served; "she should not be the Attorney General."
Dr. Wereko Brobbey also advised President Mahama to search for a new counsel to defend him in the Election Petition pending before the Supreme Court since the current AG has proven incapable of such a feat.
"The principal character, Tony Lithur is the one who has been sanctioned by the Supreme Court…that a professional association should sanction him. I think it behooves on the President to make sure that he distances himself because by allowing him to continue to be his personal lawyer, it's almost an admission that you agree that a crook…an unprofessional lawyer handles the affairs of the President."