President Mahama outlines social agenda to inform government's economic policies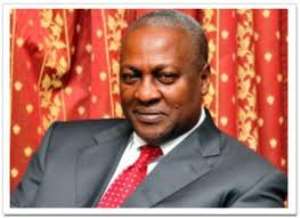 John Dramani Mahama
Accra , Feb 21, GNA - President Mahama said one of the vital pillars underpinning the national development programme is titled 'Putting People First,' also known as pillar one, which outlines the Social Agenda that would inform the economic policy of his government.
He said his government would focus on and emphasise the productive and reproductive capabilities of vulnerable social groupings such as women, children, the aged and people with disabilities.
He said government would at the same time ensure that they were effectively protected.
The President, who was delivering the State of the Nation Address on Thursday, said people needed decent and sustainable jobs to lead meaningful lives.
'Job creation and gainful employment therefore would be at the core of my priorities,' he said.
President Mahama said his government was determined to expand opportunities for all and thus would pursue policies and initiatives that would be geared towards facilitating sustainable employment generation, which would then facilitate economic growth and enhanced incomes.
To achieve these objectives, the President stressed that he had directed the Ministry of Employment and Labour Relations to work with the Ghana Statistical Service to produce quarterly labour surveys to inform policy and planning.
He said these surveys would create an accurate database of unemployment among all categories of the Ghanaian society and track them on a quarterly basis.
Again, the database would also ensure that new jobs are accurately recorded and tracked while making it possible to coordinate the various job-creation and employment initiatives.
He, however, noted that the quest to build an equitable society in which the productive capacities of the people are tapped for national development would come to naught without a sound, meaningful and relevant basic education to catch up with the fast growing knowledge-base economy.
'Any nation whose people do not have the required level of education will be left behind,' he said.
President Mahama said towards this end government would prioritize and expand access to education at all levels.
He said government would also be aggressive in its approach to address the challenges in quality enhancement and outcomes at all levels by putting in place measures to monitor quality of educational service delivery especially teaching and learning at all levels of the educational system.
He stressed that government would further reward outstanding educational service providers to boost morale in the sector and also work to achieve gender parity in education.
 It would also address concerns about standardization and affordability in fees to ensure uniformity in access to education.
'Government extends a hand of partnership to its social partners including religious bodies with long-standing roles in the provision of educational services and private sector operators of educational services, to engage in this national reconstruction exercise for expanding access and improving quality of education in Ghana.
'With specific reference to basic education, we will ensure that every child gets a head start by working to effectively and practically integrate kindergarten education into the existing system,' he said. 
GNA