President Mahama: Govt to accelerate agricultural modernization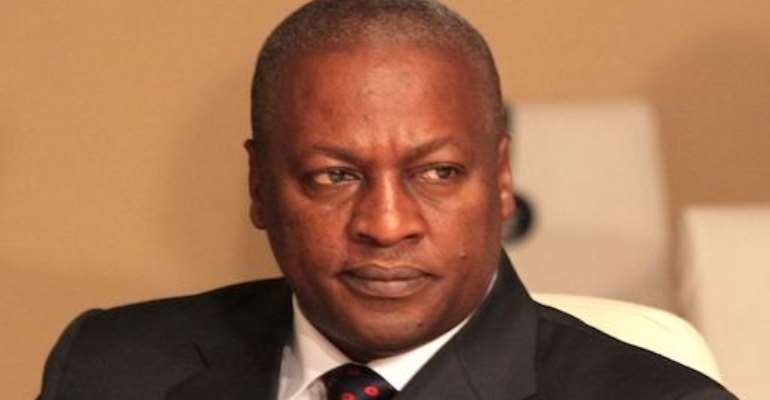 Accra, Feb. 21, GNA - President John Dramani Mahama on Thursday said the government would accelerate development efforts geared towards giving special advantage to agricultural and aquaculture development through modernization.
He said the process of modernization would involve the use of improved seed varieties, greater access to tractor services and peasant-oriented training on productivity enhancements.
President Mahama said the modernization would result in dramatic increases in maize, rice and cassava production in the next four years and these would be expanded with an additional 2,000 tractors, improved seed support and fertilizer subsidies, especially for the poorest farmers.
President Mahama, who was addressing the sixth Parliament of the fourth Republic,  said total land under irrigation throughout the country will be substantially increased as a result of new initiatives on the Accra Plains and the Savannah zone under a new World Bank facility on commercial agriculture development.
'Hydroelectric power and irrigation development will receive further boost in the Sissilli-Kulpawn and the Pwalugu Multi-purpose dam in the Upper East region,' he said.  
The President said a more coherent focus on fisheries and aquaculture development had been initiated with the designation of a new Ministry for Fisheries and Aquaculture and the imminent establishment of a new University dedicated to this sector.
He said the focus is to work towards achieving sustainable production of the historic one million tonnes of cocoa.
He said work is ongoing on a .2 billion ammonia-urea based fertilizer processing plant with an annual capacity of one million tons in Nyankrom in the Shama District of the Western Region.
'This is an initiative between the Ghana and India governments with a potential for boosting trade, jobs creation, and increased agricultural productivity,' he said.
He said the government is committed to using tourism as an instrument for the full realization of the economic potential of culture and creative arts.
In this respect the newly aligned Ministry of Tourism, Culture and the Creative Arts would facilitate the interface between government, implementing bodies in tourism, culture and the creative industries as well as international and civil society partners.
The National Commission on Culture is being restructured as the government's lead implementing and advisory body on culture and creative arts; and the Ghana Tourism Authority will be similarly transformed.
He said the government would allocate funds to the sector, while reactivating the Culture Trust Fund.
'Together with our civil society partners in the culture sector, we will in the very short term facilitate the holding of a donors' conference on resource mobilization for the development of culture and creative arts,' the President said.
 
 
More Later
GNA