Mali troops battle Islamists in Gao as car bomb targets camp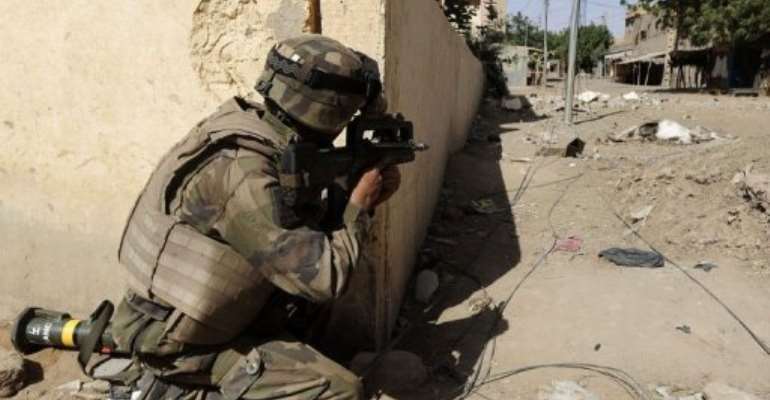 GAO, Mali (AFP) - Clashes erupted in the city of Gao and an apparent car bomb struck near a camp housing French troops Thursday as Malian and foreign forces struggled to secure Mali's volatile north against Islamist rebels.
Malian troops battled armed rebels in Gao in clashes that left the main courthouse in flames, after fighting erupted overnight with heavy gunfire reported around two main entrances to the city.
The troops were clashing with "about 40 Islamists" who had infiltrated the city from nearby villages, a military source said, while an AFP correspondent said the fighting was focused near the courthouse and Gao's city hall.
"Our troops are facing jihadists around Gao's city hall. They infiltrated the city and we are currently fighting back," Malian army Captain Amadou Diarra told AFP.
One of Mali's main Islamist groups, the Movement for Oneness and Jihad in West Africa (MUJAO), said it had sent the rebels to Gao and vowed to recapture the city.
"Our fighters entered Gao on Wednesday," MUJAO spokesman Abu Walid Sahraoui told AFP. "Our troops have been ordered to attack. If the enemy is stronger, we'll pull back only to return stronger, until we liberate Gao."
French troops had arrived to reinforce the Malian soldiers, the AFP reporter said. Gao's streets were deserted and its main market was closed.
The Islamists had clashed overnight with troops from Niger, part of a West African intervention force in Mali, with at least three rebels killed, the military source said.
The fighting had stopped by night fall.
Gao, the main city in Mali's north and 1,200 kilometres (745 miles) from the capital Bamako, was retaken by French and Malian forces on January 26 during an intervention to dislodge rebels who had seized control of the vast desert north last year.
At least two civilians were meanwhile wounded after a vehicle exploded Thursday about 500 metres (yards) from a camp occupied by French and Chadian troops in the northern city of Kidal, in the conflict's first apparent car bombing, local officials said.
An official in the Kidal governor's office said that the vehicle, apparently driven by a suicide bomber, was targeting the camp but exploded before it could reach the base, killing the driver.
Malian, French and West African troops are working to secure Mali's north against bombings and attacks after a French intervention launched last month dislodged rebels who had seized control of the vast desert area last year.
Mali's Prime Minister Diango Cissoko said this week that large-scale military operations in the north were winding down, but sporadic fighting has continued, with a French legionnaire killed on Tuesday in the mountainous Ifoghas region.
France's army spokesman Theirry Burkhard said that the "Panthere 4" operation in the Ifoghas had already left 30 Islamists dead since the start of the week.
It was unclear who was behind the attack in Kidal, but local Tuareg forces had warned against the deployment of Malian or West African forces in the city, one of their traditional power bases.
Ethnic Tuaregs in northern Mali, who have long sought greater autonomy, initially backed the rebellion but later fell out with the Islamists and had retaken control of Kidal before the arrival of French troops.
About 1,800 Chadian troops were then deployed in the city as part of the West African AFISMA mission that France hopes will eventually become a UN stabilisation force.
Asked whether it was coordinating its efforts with the main Tuareg rebel group, the MNLA, the French military said Thursday it was working with groups that shared its interests.
"It is not a question of collaboration. It's that the French army is pursuing goals that have been clearly identified. The French army of course coordinates with groups that have the same goals as us," military spokesman Colonel Thierry Burkhard told reporters.
Malian forces have been accused of carrying out abuses during their operations in the north, including summary killings, and on Thursday Human Rights Watch urged the government to punish those responsible.
"The Malian government should urgently investigate and prosecute soldiers responsible for torture, summary executions, and enforced disappearances of suspected Islamist rebels and alleged collaborators," the New York-based group said in a statement.