Ministry of Foreign Affairs organizes farewell for former Ministers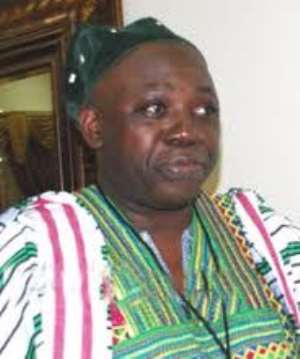 Alhaji Mohammad Mumuni
Accra , Feb. 20, GNA -- The Ministry of Foreign Affairs and Regional Integration (MOFARI) on Tuesday paid glowing tributes to Alhaji Muhammad Mumuni, former Minister of Foreign Affairs and his deputy, Ambassador Chris Kpodo.
This was at a farewell ceremony organized by the ministry in honour of the two former ministers and attended by staff of the ministry.
Ms Hannah Tetteh, new Foreign Affairs Minister, praised the former ministers for their hard work which, she stated, was evident in the professionalism of the staff.
She said their hard work had culminated in many achievements for the Ministry including the successful implementation of the biometric passport system, establishment of five regional passport application centres, the construction of the new Foreign Affairs office complex and the opening of Ghana's missions in Dubai and Ankara-Turkey.
She also acknowledged that it was now her task to work hard in order to sustain and improve on the achievements of her predecessors.
'You have both done a tremendous job and deserve all the accolades and tributes being paid to you today' she stated.
Ambassador Leslie Kojo Christian, Chief Director of the Ministry also praised the former ministers saying their work had contributed immensely to endearing Ghana to the international community.
He said they had negotiated and concluded several bilateral agreements between Ghana and several countries and had helped to protect Ghanaian nationals abroad, especially in countries like Libya and Cote D'Ivoire, through Ghana's missions in those countries.
He welcomed the new minister and pledged the entire staff's commitment to work with her.
Alhaji Muhammad Mumuni, outgoing Minister of Foreign Affairs, thanked the Ministry for organizing the ceremony, saying it was a good feeling to be given an opportunity to meet with all the people he had worked with for the past four years.
Citing Mahatma Gandhi's saying that there were two kinds of people in the world, those who did the work and those who took all the credit for it, he thanked them for allowing him to take the credit for their hard work throughout his tenure at the Ministry, which led to the achievements he was being praised for.
'The achievements could not have been possible without your hard work, dedication and professionalism and this is an opportunity to discharge this burden which I carry: to thank you' he stated.
He also asked those he may have wronged in the discharge of his duties to forgive him.
Alhaji Mumuni lauded President Mahama's choice of Ms Hannah Tetteh for the Ministry, saying the President could not have made a better choice. He described his successor as a go-getter and a goal setter whom he had known for a long time and with whom he had several things in common, including the same vision to see Ghana develop into a vibrant and democratic nation underpinned by the Better Ghana agenda, a commitment to a private sector led growth and a belief in government's responsibility to the underprivileged by putting measures in place to integrate them into the mainstream society.
'We also agree on women liberation and empowerment. When we talk about women's rights, we are not doing women a favour, women's rights are human rights', he said, adding that they were also committed to prosecuting a people-centered foreign policy which would ensure the ordinary Ghanaian benefits from Ghana's international relations.
She wished Ms Tetteh a successful and productive tenure guided by the spirit of Pan Africanism and the African Renaissance.
Ambassador Chris Kpodo, former deputy Foreign Minister also urged the staff to continue in the same spirit of hard work under the new Minister and urged them not be mediocre.
He pledged his continued support for the new Minister and the entire nation through hard work.
GNA