Fire guts Sokode Sister's Convent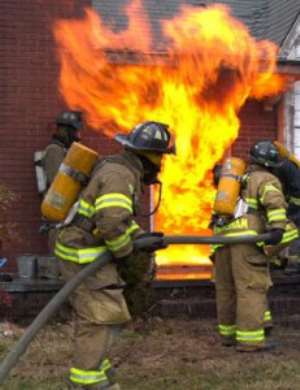 Fire Outbreak Pix
Ho, Feb. 20, GNA - Sisters of Mary Mother Sister's Convent of the Catholic Church at Sokode in the Ho Diocese, was gutted by fire on Wednesday morning.
Personal effects, teaching aids and books worth thousands of Ghana cedis were burnt to ashes.
It took a combined team of fire fighters from the Ghana National Fire Service and men from the "7 Fire Detachment" of the 66 Artillery Regiment about two hours to quench the fire, which raged through six rooms.
Mr. Joy Agbleze, Ho Municipal Fire Officer, said the fire was a major disaster, and the cause was yet to be established.
Reverend Sister Peace Omega, Headmistress of Mater Ecclesiae School, and officer in-charge at the Convent, told the GNA that a student, who was going to respond to a telephone call in one of the bedrooms at around 0800 hours, detected smokes coming from the room.
She said the student raised the alarm and personnel of the Fire Service were called to help extinguish the fire.
GNA