President delivers address in Parliament Thursday, minority to attend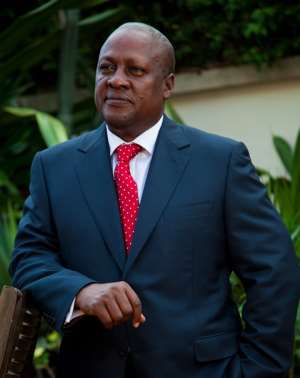 JM nn
Accra, Feb 20, GNA - President John Dramani Mahama will tomorrow Thursday February 21, deliver his maiden State of the Nation's address to the Sixth Parliament of the Fourth republic with uneasiness that minority may boycott the event.
But the Minority, who had earlier said they reserved the right to attend the event appear to have softened their stance and may avail themselves to the occasion as the Leader of the side, Osei Kyei Mensah Bonsu after a meeting to decide the direction to take, told the media 'We will see the members in the House tomorrow'.
The address is in line with Article 67 of the Constitution, which mandates the President to at the beginning of each session of Parliament deliver a message on State of the Nation.
The Minority boycotted the Swearing-in and investiture of President Mahama on January 7, 2013 and had also not participated in the vetting of ministerial nominees arguing that those decisions could be annulled when the Supreme Court's ruling on the New Patriotic Party's petition challenging the results of the 2012 elections goes in their favour.
The presidential candidate of the New Patriotic Party, Nana Akufo Addo, his running-mate, Dr. Mahamadu Bawumia and the Party's National Chairman, Jake Obetsebi Lamptey have questioned the outcome of the 2012 presidential elections at the Supreme Court.
Usually reliable sources told the GNA that even though the leadership of the NPP wanted the Minority caucus to decline being part of any event relating directly to the presidency, the Minority would not boycott the President's address but would only observe the goings-on.
Meanwhile, feverish preparations are being made to modify the chamber of Parliament for the event. Already, security is being beefed up in the area hours ahead of the address.
GNA