Poor Insanitary Condition Catches Attention Of MPs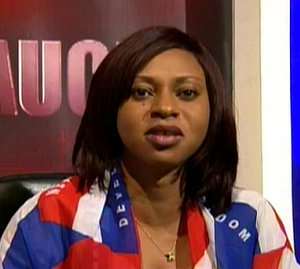 The spate of insanitary condition prevailing in the country has attracted the attention of Members of Parliament (MPs), with many expressing worry about the dangers associated with their various constituencies and the country at large.
On the floor of Parliament yesterday, the MP for Dome-Kwabenya, Sarah Adwoa Safo spoke loudly against poor management of landfill sites and how filth has engulfed the country, especially Accra.
Her argument was strongly supported by the MP for Asokwa, Madam Patricia Appiagyei, in a statement she also delivered on the floor of the House. Their pronouncements come barely twenty-four hours after WaterAid, a Non-Governmental Organisation (NGO) issued a report, faulting the Government of Ghana for reneging on its financial commitments to the sanitation sub-sector, thereby denying seven million Ghanaians access to sanitation.
According to Adwoa Safo, it is about time measures were put in place to address the phenomenon which has become a stumbling block for the Metropolitan, Municipal and District Assemblies (MMDAs).
'Mr. Speaker, a walk through my constituency will reveal how refuse dumped in front of individual homes, waste collected from gutters and dumped by the roadside, huge refuse dumps in our market places or individuals disposing of waste through burning have become rampant.
'These scenarios are the reflection of the unscientific nature of waste management in Ghana. These activities are having an adverse health effect on my constituents,' she observed.
She enumerated a number of negative impacts on the health of the citizenry, as a result of improper disposal of waste, some of which include; infectious and transmitted diseases such as typhoid fever, malaria, Hepatitis B & C; risk of infections and injury, especially to children, who are more vulnerable.
To chart the way forward, the Dome-Kwabenya legislator called on the Ministry of Local Government & Rural Development and the Ministry responsible for Environment to institute a scientific way of managing waste, such as Landfill sites; Recycling and Combustion.
She proposed the enactment of a National Solid Waste Law, as is being done in Brazil. The National Solid Waste Law is a cross-cutting law that aims at decreasing the total volume of waste produced nationally and increase sustainability of solid waste management from local to the national level.
'Ghana needs that political will to create a waste management policy and a legal framework for the enforcement of such policy,' she argued.
That notwithstanding, Ms. Safo advocated for the creation of a special Fund for Waste Management in the country, as part of the National Solid Waste Law to provide adequate funding to the various MMDAs to deal with waste in a more pragmatic and consistent manner.
'Waste, if managed well, would drastically reduce government's expenditure on health,' the Dome-Kwabenya legislator noted.
Madam Patricia Appiagyei's comments were not different from the one delivered by Hon. Adwoa Safo.
According to her, while the growth of towns and cities have resulted in increased population, coupled with increased socio-economic activities, there have not been a commensurate increase in essential logistics for effective and efficient waste management service delivery.
This, she noted, has resulted in the lack of final disposal facilities, street littering, choked drains, offensive odour, indiscriminate defecation, heaps of refuse at most sanitary sites, particularly lorry parks and markets.
She enumerated a number of obstacles that militate against the efficient and effective delivery of waste management services in the country, some of which include inadequate holding capacity; lack of disposal facilities; poor regulatory framework; bad public attitude; inadequate human resource capacity; lack of adequate national financing strategy; weak research report and  poor planning versus rapid urbanization.
She said it was about time pragmatic and comprehensive decisions were taken and implemented to safeguard and protect the environment from fast deterioration.
To this end, she proposed the introduction of incentive schemes such as subsidies, concessionary loans and tax exemptions to encourage investment in equipment replacement, research, training and demonstration projects by the private sector.
She also proposed for the improvement of the legal and regulatory instruments that exist in the waste management sub-sector, saying 'this should support strict contract enforcement and monitoring by setting up sanitation courts within our communities.'
Further to that, she proposed the development of medium standard landfill facilities in all the regional and district capitals coupled with requisite public, private partnership arrangement to facilitate effective waste disposal operations as well as the review of land acquisition process and urban planning with regards to waste management.
Contributing to the statements, MP for Akwatia, Baba Jamal said the question of waste management brings to mind two important issues; attitude towards sanitation and legislation.
He said the issue of attitude towards waste management was very critical and therefore advised Ghanaians to change their attitude towards the environment.
He backed calls for the establishment of a management fund which he argued was very important in financing activities of players in the waste management sector.
Dr. Matthew Opoku Prempeh on the other hand said energy could be derived from waste if properly managed. He also backed calls for the enactment of a comprehensive national policy to take care of waste management issues in the country.
'It is about time we have a national policy that will put into perspective the proper handling of waste in the country,' he noted.