Woyome Walks Free! Martin Amidu Fears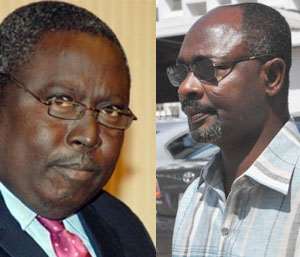 Martin Amidu and Alfred Woyome
THE SUPREME COURT yesterday recommended that the Ghana Bar Association (GBA) take disciplinary action against Lawyer Tony Lithur, for leading a defunct foreign company to make claims in a Ghanaian Court, as former Attorney General and Minister for Justice, Martin Alamisi Amidu expresses fear that Alfred Agbesi Woyome could walk away.
Mr. Lithur's law firm, LithurBrew & Co, was said to have acted as counsel for Austro Investment Management Limited to claim part of the GH¢51.2million that embattled businessman Alfred Agbesi Woyome allegedly received fraudulently from the government.
Mr. Woyome, who claimed to be a National Democratic Congress (NDC) bankroller, was paid GH¢51,283,480.59 out of the GH¢105million that he sought from the state in what has now become the infamous judgment debt saga.
Woyome's Explanation
After the Supreme Court hearing of former Attorney-General Martin Amidu's petition against four respondents including Mr. Woyome yesterday, journalists approached the NDC financier to explain to them the reasons why one of the panel members recommended sanctions against Mr. Lithur, who is President John Dramani Mahama's personal lawyer in the landmark petition challenging his election as President.
Mr. Woyome then said he contracted Austro Investment Management Limited to do syndication of loans to a tune of $1.2billion.
Incidentally, it was the construction of the stadia used for the 2008 African Cup of Nations hosted by Ghana which Mr. Woyome got involved in, but he did not tell journalists if the CAN 2008 projects were what the syndication was meant for.
Mr. Woyome said he abrogated the contract with Austro Investment Management Limited after observing that it could not do the job.
The company therefore sued Mr. Woyome at an Accra High Court to claim part of the GH¢51.2million paid to him as judgment debt.
The Parties
Mr. Amidu's writ is against the Attorney-General, Waterville Holdings (BVI) Limited, Austro-Invest Management Limited and Alfred Agbesi Woyome.
When the case was called, Mr. Amidu said he was representing himself while Dorothy Afriyie, a Chief State Attorney, represented the AG. Incidentally, the current Attorney General, Marietta Brew Appiah-Opong, was a senior partner at LithurBrew and Co, the law firm representing Austro Investment.
Kofi Peasah Boadu was for Waterville Holdings (BVI) Limited while Osafo Buaben announced himself as representing Mr. Woyome. Austro-Invest Management Limited was however not represented by counsel because Mr. Amidu told the nine-member panel that he was having difficulty tracing the company.
Amidu's Bombshell
He told the court that he made a search on July 26, 2012 and found out that Austro-Invest Management Limited had been liquidated in Switzerland.
However, he said that in Ghana, the company existed and its directors had filed processes seeking claims against Mr. Woyome.
He added that Ghanaian lawyers LithurBrew & Co are the company's solicitors.
'When you have an Attorney General whose chambers was defending somebody like that, and we have been served with a paper, the only reason why they will not act to get Austro-Invest properly dealt with is that they themselves were defending Austro-Invest at a time when it had been liquidated,' Mr Amidu said.
He explained to Citi FM that 'in court, they said I can take steps too to see what I could do and then I said to do that, we will be fighting against principalities and forces because I can only do it if I believe that there will be results. The Attorney General was one of the partners in LithurBrew & Co.'
The former AG also challenged President John Mahama to show he was committed to the fight against corruption.
'Let the government show that it is committed that this GH¢51 million, it is interested in putting it behind it. When you look at the prosecution in court, it is steady; they are not doing it well. It's like anything concerning this Woyome case, the government is not interested. I don't know but that is the impression one gets.'
He said the President has the chance to make history 'by demonstrating to the whole world that he will not countenance these corrupt things which are going on. This is his chance and if he doesn't do it, I am sorry but he will go down in history for it.'
According to Mr. Amidu, Marietta Brew Appiah-Oppong can 'rise above herself by making sure the right thing is done in spite of the fact that her chambers were handling this case before. It is a question of integrity.'
 
Judge's Query
At this juncture, one of the panel members, Justice Sophia O. Adinyira, asked the former AG who that lawyer was and he (Mr. Amidu) responded, 'It is Tony Lithur.'
The judge then asked how a lawyer could lead a 'dead' company to make claims in a Ghanaian court and added that the GBA should take disciplinary measures against that lawyer.
Sanctions
'The Bar Association should be informed of the conduct of the lawyer who represented the company that has been liquidated in court for disciplinary action to be taken against him.'
Osafo Buaben then cut in and told the court that the same issue was raised at the High Court and as a result, Mr. Lithur discontinued the case.
Mr. Amidu mentioned that the new Attorney-General, Marietta Brew Appiah-Opong was a partner at LithurBrew & Co and doubted her commitment to fighting the Woyome case.
Amidu Versus New AG
Mr. Amidu said, 'I am no longer the AG and therefore have no mandate to take the issue up. I am here in the public interest. This is a case the government of Ghana should be pursuing. I have done my bit. If they want to pursue the matter they should or leave it'.
Justice Jones Victor Dotse, another member of the panel, told Mr. Amidu that he believed that once the matter had been raised, the authorities would take it up but Mr. Amidu replied that 'how can they take action when the AG herself is a partner?'
Based on the revelation by Mr. Amidu, the panel  presided over by Justice S.K. Date-Bah unanimously struck out Austro-Invest Management Limited from the suit on grounds that legal action could not be brought against a dead company.
Later, Mr. Woyome claimed in the presence of journalists that even though the new AG was a partner at LithurBrew & Co, she did not know anything about the Austro-Invest Management Limited case.
Amidu's Reliefs
The former AG is asking for reliefs including an order directed at Mr. Woyome, Waterville and Austro- Invest Management Limited to refund to the Republic of Ghana, all sums of money paid to them severally or jointly upon or as a result of the unconstitutional conduct of the AG in purported pursuance of the two inoperative agreements of 26th April 2006 or 'any other unconstitutional agreement as having been made and received by them in violation of Article 181 of the Constitution'.
Additionally, he is questioning the jurisdiction of the High Court to have entertained Mr. Woyome's suit against the Republic of Ghana on grounds that he lacked the locus standi in the first place to initiate a cause of action against the state in the absence of a contract with the Government of Ghana.
Mr. Amidu, who said his action was based on 'public interest', argued that on a true and proper interpretation of Article 181(3), (4), (5), and (6) and the spirit of the 1992 Constitution, the Republic of Ghana cannot incur liability for any foreign or international loan or expenses incidental to such foreign or international loan transactions without Parliamentary approval of the transaction for it to be operative and binding on the Republic of Ghana.
Extension of Time
Yesterday, lawyers for the Attorney-General, Waterville and Woyome pleaded with the court for extension of time to file their statement of defence.
Without objection from Mr. Amidu, the court granted their wish and asked them to file the processes within seven days for the case to take its normal course.
By Mary Anane