President Mahama Defends Appointment Of Ministers Of State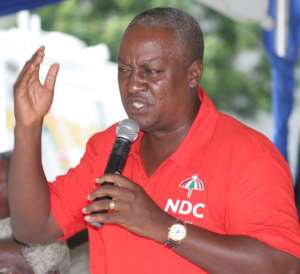 John Dramani Mahama
President John Mahama has said the appointment of Ministers of State at the Presidency would help him do his work.
"There are more than fifty agencies under the presidency. They include the Ghana Aids Commission, the Ghana Investment Promotion Center, the Scholarship Secretariat, Public Sector Reform Secretariat and the President needs assistance in terms of supervising these agencies and that is why we appoint ministers without portfolio."
Ghanaians have criticized the President for appointing Ministers of State at the Presidency, describing it as job for the boys.
Speaking at the swearing-in ceremony of the Ministers of State, President Mahama called on the Ministers to be vigilante in ensuring that their subordinates perform their duties diligently.
"You must ensure that government resources are not being wasted" he said.
The President also announced plans of the presidency to carry out frequent appraisals of all appointees to ensure optimal productivity.
"We intend doing half yearly performance appraisal by all our appointees to make sure that they are working at optimum and carrying out on the purpose for which we sent you there. responsibility and accountability starts with the president and I am going to hold you responsible. Non performance by your subordinates constitutes non performance by yourself" he said.
He noted "based on your performance we would hold you accountable for the success or failure of the work you did."
Meanwhile, Minister of State responsible for Private Sector Development, Rashid Pelpuo on behalf of the nine Ministers promised their commitment in furthering the vision of the President to meet the expectations of the Ghanaian.
"We will work hard; we want to promise that we will commit ourselves to your service, to the service of the people of Ghana" he said.