"Innovation 101" takes off with fufu pounding machine inventor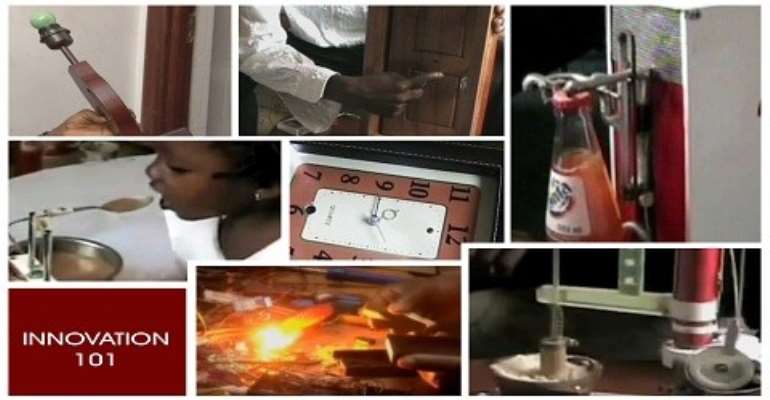 A 25-minute documentary, "Innovation 101" aimed at promoting Ghanaian inventors premiered on Multi TV's Joy News channel, Tuesday.
The program profiles local inventors and connects them with persons at the relevant institutions or agencies to help them improve upon their inventions and move into mainstream production.
Asidu Abudu, a 27-year-old technical school graduate was the first to be featured.
A self-taught engineer, Abudu has been experimenting with mechanical instruments from an early age and has so far manufactured prototypes of a fufu pounding machine, an eating machine among others.
''I started when I was in primary 6. It comes to me like a dream that when I put this and that together this will be the result. I see everything in my dream. When I dream and wake up the next morning, I sketch the details and dash to the market to get my materials to design a prototype'' he said.
Today, Asidu has an impressive portfolio of not less than 26 different inventions.
His inventions are designed with the aim of making everyday life a lot easier for the average person.
''In Ghana, if you want to pound fufu, you will need extra hands and that becomes stressful for most women who cannot pound (fufu) with one hand. With this machine, it has a remote control that directs the pace at which you want the pestle to pound your fufu'' he explained.
Another of his works which may be of interest to corporate bodies is a wall clock he says can check attendance to work.
According to him, existing mechanisms for checking attendance in offices mostly "record your name and the time you reported at work but what workers do is that they give their card to people who report early to slot it for them and as a result absent themselves from work.
But mine works differently. It takes your thumb print, scans your image, time and date you reported. The machine has a memory card, so at the end of the month, the manager will only slot in the memory card in his machine and will have details of attendance to work.''
If you missed Tuesday's episode, you can catch a playback this Sunday at 4:30pm on the Joy News channel on Multi TV.
"Innovation 101" will profile a local inventor each week.
Next Tuesday, the spotlight will be on Johannes Arthur, a young man who produces living room furniture from ordinary plastic mineral water bottles.
Innovation 101, always a step ahead.