Mugabe thanks God for long life ahead of birthday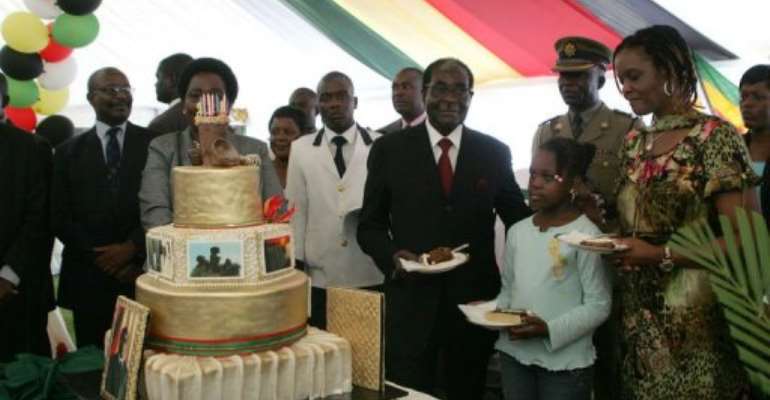 HARARE (AFP) - Zimbabwe President Robert Mugabe said Wednesday on the eve of his 89th birthday he owed his long life to God and revealed that he suffers loneliness from the loss of friends and relatives.
"It's him, our creator, who is responsible for the fact that I am 89," Mugabe told guests at a party at state house hosted by his staff ahead of his birthday on Thursday.
"When you get to that stage, you can't avoid that yesterday when I was younger we were many. All my friends have gone. Also, relatives are gone and I continue to linger on," he added.
The party was attended by government ministers, security chiefs and staff from his office.
Chief secretary Misheck Sibanda presented Mugabe with a cake with a cockerel design and read a message on behalf of staff wishing the veteran leader many more years.
Guests were treated to music by the police brass band and gospel musician Shingisai Siluma who played songs requested by Mugabe.
Mugabe, in power since independence from Britain in 1980, is one of Africa's longest ruling leaders. He has accepted nomination by his ZANU-PF party to run in the presidential race this year.
His health has been the subject of much speculation, especially since WikiLeaks released a 2008 diplomatic cable saying central bank chief Gideon Gono had told then US ambassador James McGee that Mugabe had prostate cancer, and had been advised by doctors he had less than five years to live.
A public rally to celebrate his birthday will be held at a stadium in the mining town of Bindura on March 2, where festivities will include a concert featuring the country's top musicians.