Police Arrest 4 For Posing As Security Operatives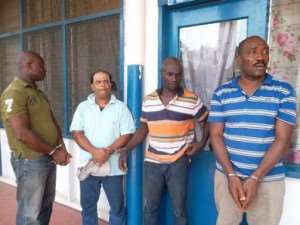 The Police at Kotokuraba in the Cape Coast metropolis have arrested four people who claim to be National Security Operatives.
The suspects – Peter Amenyo, an auto mechanic, Sampson Mends, a civilian employee with the Ghana Armed Forces, Accra, Rijee Rizvi Mamudeen, a Malaysian business man and Corporal Daniel Adjei, a police officer, are also accused of extorting monies from their victim.
Briefing Newsmen, Kotokuraba District B' Commander, ASP Emmanuel Tetteh said the police had the information that three Ghanaians and a Malaysian, posing as National Security Operatives from Accra arrested a certain man at Moree, a town near Cape Coast.
He said the suspects, who arrested the victim under the allegation that he (the victim) was dealing in substances believed to be Mercury, seized the substances and extorted a sum of GH¢ 1,000 from the victim before releasing him.
ASP Tetteh said after the extortion, which is contrary to section 151 of the Criminal Code Act 29/50, the suspects warned the victim not to disclose what had transpired between them to anyone.
He said upon a tip-off, a team of policemen from Kotokuraba, led by himself arrested the suspects who were on board an Opel Astra, with registration number ER 1494 X, at the Moree Junction.
ASP Tetteh added that the suspects are in the police custody assisting in investigation.