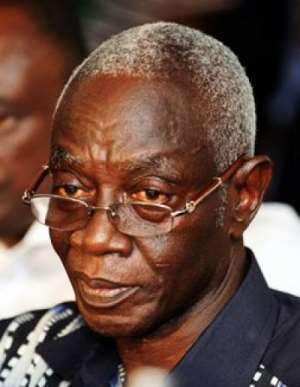 Dr. Kwadwo Afari-Gyan, Chairman of the Electoral Commission of Ghana
These are not steady times for the Electoral Commission (EC), as the once revered independent elections management entity struggles to hold its head above the water of integrity.
As one of the critical institutions of democracy, the EC, a creation of the Constitution like Parliament, should be above reproach. The quality of the December 7 polls it managed and the emanating disputes thereof have left it almost naked, bereft of reverence as it were.
As if that was not enough, the institution is said to have been engaged in unthinkable acts which, if proven, would deprive it of any shred of credibility to conduct future elections, we bet.
Those who favour a total overhauling of the EC and the manner in which it operates, almost on the blind side of the people it is serving, premise their stance on the almost demi-god stature of the Commission.
The alleged tampering with the evidence tendered before the Supreme Court, as it happened in Savelugu and, as we have learnt, countrywide, is not only a contempt case of the highest order but a subversive act at that.
We have followed with keen interest and disappointment the various insipid interventions by some EC officials when the story broke. While some of the officials have denied being behind the directive for the tampering exercise, others said they could not comment. The anomalous situation has left us with cognitive challenges as we seek to minnow the truth from the mendacity.
We might not be a failed state but in the face of such glaring absurdities from an institution which has failed to maintain its integrity, we can justifiably throw our hands into the air and wail, "Cry the beloved the country."
Salamatu Usman, a national service person, could not have embarked upon such a subversive act of constructing fresh pink sheets, without the diktat of someone holding a higher position at the EC headquarters or elsewhere. A thorough probe of this mind-boggling absurdity should not be overlooked as we seek to strengthen our institutions.
By the time the EC and its below average management of the last polls, including the post-petition presentation at the Supreme Court, cease to be a major news story, the Commission would have lost all legitimacy to continue discharging its Constitution-bestowed mandate.
The EC has lost a large chunk of the reverence which once set it apart from most establishments and earned for it an unalloyed confidence of Ghanaians; those were times when its chairman had the final word. Those days are over and Ghanaians are questioning, with an unusual gusto, what went wrong with the worst polls ever held in the country's history.
The price of freedom is internal vigilance, which was exactly what was exhibited by those behind the unearthing of the treasonable action, which we encourage all freedom and democracy-loving citizens to emulate. God save Ghana!