Zimbabwe police raid election monitor's office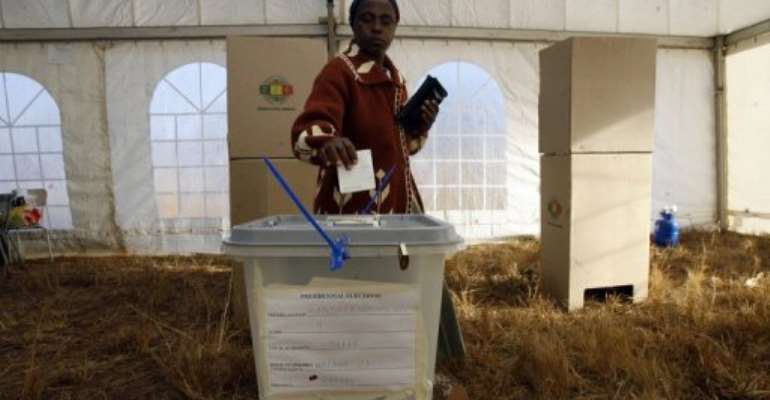 HARARE (AFP) - Zimbabwe police raided the offices of a leading election monitoring group on Tuesday in the latest of what activists fear is a deliberate move by authorities to harass them ahead of a referendum on the constitution.
Police forcibly entered the offices of the Zimbabwe Election Support Network (ZESN) by breaking part of the perimeter wall and confiscated documents, a human rights lawyer said.
No arrests were made.
"They had a search warrant to search for subversive material, documents, gadgets, recordings and to look for illegal immigrants," Zimbabwe Lawyers for Human Rights spokesman Kumbirai Mafunda told AFP.
Police have in recent weeks targeted non-governmental organisations as the country readies for a crucial constitutional referendum on March 16.
ZESN, a household name in Zimbabwean election monitoring, has in the past exposed the shambolic state of electoral rolls which they claimed were stuffed with the names of people who were long dead and children below voting age.
A week ago, detectives ransacked the offices of a civic group called the Zimbabwe Peace Project and seized documents and CDs.
At the weekend police also detained three rights activists in the farming town of Chegutu west of the capital on charges of holding an unsanctioned meeting to discuss the constitution.
The new charter is designed to pave the way for new elections in July, which are set to end the uneasy power-sharing government between arch-rivals Prime Minister Morgan Tsvangirai and veteran President Robert Mugabe.
With the referendum just weeks away, political tensions are building up and activists increasingly targeted.
Activist group the Crisis in Zimbabwe Coalition said the raids appear "to be a calculated state sponsored move to inculcate fear in CSOs doing election related".
Authorities have in the past threatened to revoke licences for groups deemed to be opposed to Mugabe's policies.
Tsvangirai's Movement for Democratic Change party has urged the police to stop harassing rights activists and party supporters.