Chiefs Paid To Visit Mahama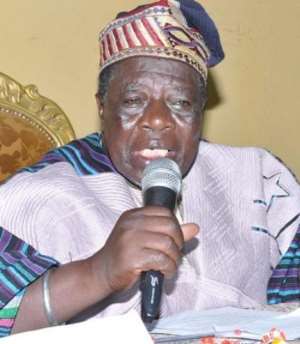 Naa Prof John Nabila-President, National House of Chiefs
Shocking details are emerging from various chiefs' visits to the presidency, then Osu Castle and now Flagstaff House, under the pretext of paying courtesy calls on President John Mahama.
Apart from the fact that the chiefs are invited to the seat of government to give some sort of legitimacy to Mr Mahama's presidency, evidence gathered by DAILY GUIDE indicates that all the chiefs from various regional houses of chiefs that trooped to the presidency were given motivation for embarking on the trip.
DAILY GUIDE has stumbled on a copy of a letter written and signed by the Chief Director of the Ministry of Chieftaincy and Culture, Rebecca Amooh-Aboagye, on behalf of the minister, addressed to all the registrars of the various regional houses of chiefs in which she asked the chiefs to present a budget for such trips.
In the said letter, which is dated January 18, 2013 and captioned 'Courtesy Call On His Excellency John Dramani Mahama President of the Republic of Ghana', it was stated, 'You are further requested to submit a budget for the trip by 24 th January 2013 for consideration.'
This, the letter indicated, followed a request from the chiefs from the various regions to call on President Mahama to, as it were, congratulate him on assumption of office  as president of  the Republic.
The budget was expected to facilitate the visit of the chiefs who were not to be more than 15 members of the regional houses of chiefs to go and pay homage to the president whose election is being challenged in court by some members of the opposition New Patriotic Party (NPP) including its flagbearer, Nana Addo Dankwa Akufo-Addo.
The most recent of such visits to the presidency was by the Eastern Regional House of Chiefs, led by the Okyenhene, Osagyefo Amoatia Ofori Panin, which generated a heated debate.
This was after executives of the Eastern regional branch of the ruling National Democratic Congress (NDC) issued a statement in which they described the visit by the traditional rulers as 'unwarranted' and politically motivated.
An appeal by the chiefs, who were led by Okyenhene, Osagyefuo Amoatia Ofori Panin, for President Mahama to do well to accept the outcome of the petition before the Supreme Court seeking to invalidate his election, was equally rubbished by the NDC chieftains.
DAILY GUIDE has learnt that very soon, other institutions and professional groups would be lined up to congratulate the president as the chiefs have been made to do.
Some, including political analysts, have suggested that the move could be part of a grand scheme by the president and his handlers to get the chiefs and other bodies and institutions to endorse his presidency in spite of the dispute over the elections.
By Charles Takyi-Boadu