'Many casualties' in tribal clash near Sudan border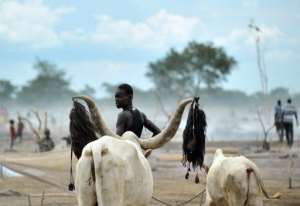 A herdsman from the Nuer tribe stands with his cattle at a camp near Nyal, South Sudan on November 11, 2011. By Tony Karumba (AFP/File)
KHARTOUM (AFP) - A tribal clash has claimed many casualties near the tense undemarcated border between Sudan and South Sudan, a source familiar with the incident said on Tuesday.
The violence occurred between nomadic Arab Misseriya cattle herders and members of the South Sudanese-based Nuer tribe west of the disputed Abyei region, said the source, an Abyei resident.
"There are many casualties," he said, unable to give specific details.
The Sudanese Media Centre, which is close to the security apparatus, quoted a Misseriya leader as saying 23 people were killed in attacks by the South Sudanese military on Sunday.
"No, it is a tribal clash," during the Misseriya's annual migration southwards, the Abyei source said. "It happens every year when they cross the territory of another tribe."
However, the incident coincides with concerns over rising tension between Sudan and South Sudan along the frontier.
Nomads earlier this month warned that millions of migrating cows were at risk of death on the Sudan-South Sudan border because the two nations failed to open the frontier as agreed several months ago.
The cattle fell victim to the inability of Sudan and South Sudan to implement key security and economic agreements which their presidents signed in September.
On Friday the United States said it was "deeply concerned" by reports of clashes between Sudan and South Sudan in disputed border areas between the north's Blue Nile and South Sudan's Upper Nile state.
Khartoum accuses South Sudan of backing rebels in South Kordofan and Blue Nile, which has been the major obstacle to putting the September deals into effect.
Diplomats and experts had also expressed concern that tensions were escalating and said there is no immediate hope of a resolution to the dispute.