Government should conduct debate, research into graduate unemployment - Rector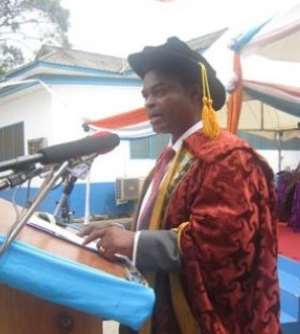 Mr. David Newton
Mr. David Newton Accra, Feb. 15, GNA - Mr David Newton, Rector, Ghana Institute of Journalism (GIJ) has called for a major debate and research into the unemployment cancer that has plagued graduates in the country.
This, he noted would enable government to develop an implementable solution for the challenges and also give the nation a dependable data when planning.
Mr Newton was speaking on Friday during the maiden edition of a job fair organised by GIJ for students of the Institute.
He urged government to gather statistics on those employed in all sectors of the economy so that Ghanaians would know the number of those in active service and those who would retire soon in order to strategise on how to fill those gap.
Mr Newton called for maximum collaboration between industries and training institutions to know what they actually require of graduates.
He expressed the need for experts to be placed on the board of training institutions in order to help develop curriculum which would enable graduates fit into the job market.
Mr Newton urged training institutions to strengthen their counselling departments to be able to coach students well in the choice of courses to pursue to avoid churning out unemployable graduates.
'Counselling students would adequately enable them know their strengths and weaknesses so that they would not venture into courses they might not like,' he said.
The Rector called on research students to endeavour to come out with implementable research works so that they would be accepted by industries.
'It is pathetic to note that most of the research works we see nowadays are not implementable and has been sitting on our shelves for a very long time.'
Ms Esther Cobbah, Chief Executive Officer, Strategic Communications Africa (Stratcomm Africa) who spoke on volunteerism lauded corporate entities for engaging in social corporate responsibilities as it enable staff to devote time and skills to help the underprivileged.
'The skills of the relations practitioner can play a vital role in the development of a community, but if we only exercise our capabilities for remunerations, and do not seek opportunities to volunteer to the benefits of the society, it is likely that our relevance may not be obvious to much the public,' she explained.
She said Stracomm as part of its corporate social responsibility had established a charitable affiliate- the Centre for Development and Intercultural Communication, which is helping beneficiaries improve their human understanding.
'Staff of Stracomm volunteer their time to help school children in disadvantaged areas improve their reading and writing skills, and also train the youth in the use of drama and puppetry in communications.'
Alhaji Hamidu Chodi, Head, Human Resource Department, Ghana Broadcasting Corporation, deplored the low level of volunteerism among Ghanaians.
'It is sad to note that people who.... push your vehicle for you in case it breaks down in the middle of a journey would even expect you to give them something.  This is very pathetic,' he said.
The Public Relations students of the school presented 64 books on various topics to the school's library as part of the fair.
Participating companies included Phoenix Insurance, Cal Bank, Nestle Ghana, SOS Ghana, Blow Chem Industries Limited -producers of Bel Aqua Mineral Water and Stratcomm. GNA