Gunmen abduct seven foreign workers in Nigeria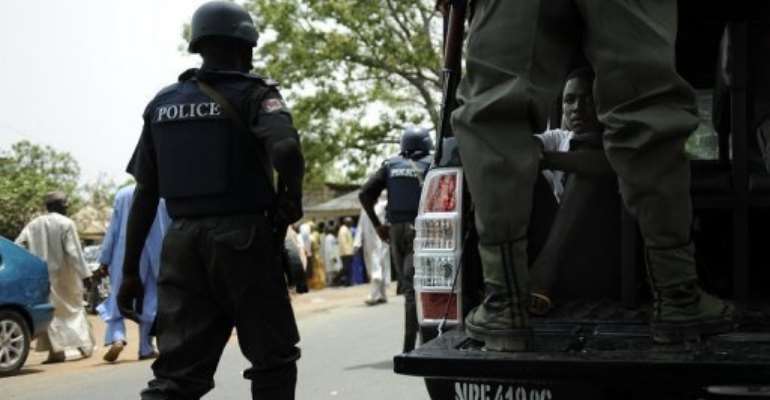 KANO, Nigeria (AFP) - Gunmen stormed a construction site in northern Nigeria, kidnapping seven foreign workers and killing a security guard, police said Sunday, in one of the worst attacks on expatriates in the restive region.
Two Lebanese, an Italian and a Greek have been confirmed by their governments to be among those seized in the attack late Saturday on the Setraco construction site in the town of Jama'are in Bauchi State.
Bauchi, among the states in northern Nigeria where Islamist extremist group Boko Haram has carried out repeated attacks, saw two separate gun raids earlier Saturday, but it was not clear if the Islamists were behind the violence.
"From the report we have received, the hostages are seven in all. They include four Lebanese, an Italian, a Briton and a Greek," Bauchi state police spokesman Hassan Auyo said.
There has been no confirmation that a Briton was among those kidnapped nor that the number of Lebanese was four.
"We are aware of reports and are making enquiries with the local authorities," Britain's Foreign Office said.
The Lebanese foreign ministry said two of its citizens were among those seized.
Greek Foreign Minister Dimitris Avramopoulos said in a statement that he had contacted his Italian counterpart regarding a response, adding that a plane was on standby should it be necessary to send a party from Athens to Nigeria.
Local government chairman Adamu Aliyu told AFP that residents believed a Lebanese mother and daughter were in the group taken by the gunmen, but those details could not be verified by police.
A security guard at the Setraco site was shot dead in the raid in Jama'are, about 200 kilometres (125 miles) from the state capital, Bauchi's police chief Mohammed Ladan told AFP.
Setraco Nigeria, a construction and civil engineering company with a road project in the region, is a subsidiary of Lebanese-owned Setraco International Holding group.
The attack on the site came after the same gunmen were repelled while trying to storm a police station and a prison in the town, the police chief said.
"The gunmen came in five all-terrain vehicles," said resident Musa Balla, estimating they arrived between 8:00 pm (1900 GMT) and 10:00 pm.
Gunmen also launched a similar attack on a police station in the town of Kafin Madaki, 40 kilometres (25 miles) from the state capital, triggering a shootout but causing no casualties, Ladan said.
Boko Haram, a group blamed for hundreds of deaths in northern Nigeria since 2009, has claimed several attacks on police stations as part of an insurgency it says is aimed at creating an Islamic state in the mostly Muslim north.
The south of the country, Africa's most populous with about 160 million people, is predominantly Christian.
The kidnapping of foreigners has long been a scourge in Nigeria's oil-rich south, with scores of hostages having been released following ransom payments.
Such incidents in the north remain relatively isolated and are considered a different phenomenon.
A Briton and an Italian kidnapped in the north in 2011 as well as a German engineer seized last year outside the region's largest city of Kano were all killed in captivity.
While many sought to blame Boko Haram for the deaths, the group, which often issues statements claiming attacks, has never acknowledged involvement in the abductions of Westerners.
In December, a group known as Ansaru claimed the kidnapping of a French citizen in the northern state of Katsina. The hostage's condition and whereabouts remain unknown.
Ansaru is thought by some to be an offshoot of Boko Haram which may have forged ties with other Al-Qaeda linked groups operating in north and west Africa, but little is known about its make-up even as its profile has risen.