Reeva Steenkamp appears in reality TV show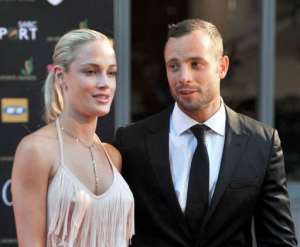 Steenkamp and Pistorius are seen at Feather Awards in Johannesburg on November 4, 2012. By Lucky Nxumalo (AFP/File)
JOHANNESBURG (AFP) - Covergirl Reeva Steenkamp, who was allegedly shot dead by her lover Oscar Pistorius, will appear in a pre-recorded celebrity reality TV show in South Africa on Saturday, two days after her death shocked the nation and the world.
The 29-year-old, who was shot four times at the Olympic athlete's home in the early hours of Valentine's Day (Thursday), will make a posthumous prime-time debut in "Tropika Island of Treasure" which is expected to draw a vast audience.
On Saturday Pistorius, the 26-year-old South African Paralympian gold medallist, faced a third night in police custody, accused of murdering Steenkamp, the woman who described him as her "boo" and "an amazing person".
The reality show, shot on location in Jamaica, features the slain model and law graduate as well as several local personalities competing for one million rand ($113,500) prize money.
Producers decided not to shelve the show, instead casting its broadcast as a tribute to Steenkamp.
Forensics teams are still working at Pistorius's home to try and establish what took place before and after Steenkamp was shot in the head and hand.
"She was happy, healthy, beautiful and vibrant and that's the way she should be remembered," said executive producer Samantha Moon said in a statement.
In an earlier statement Moon said the decision to broadcast Tropika Island of Treasure 5 was taken after "much deliberation."
"This week's episode will be dedicated to Reeva's memory."
The show will be broadcast on state television channel SABC1, Steenkamp's mother had given the showing her blessing.
"Yesterday the mother agreed that we should go ahead and we are free to go ahead and we are working on how to pay tribute to her," said Kaizer Kganyagon, a spokesman for SABC.
The audience is expected to be much larger than normal, although viewer figures were not immediately available.
"The number that we expect will be obviously more than the normal because now everybody wants to see this person that was killed two days ago."
A special tribute will be broadcast ahead of Saturday's show at 6:30 pm (1630 GMT).
Trailers for the series shows a beaming and vivacious Steenkamp clad in a bikini and other skimpy clothing.
The show's website carries a picture of burning candle with a message: "We are deeply saddened and extend our condolences to Reeva's family and friends."
The series is now in its fifth season.
The hour-long show, screened on Saturday evenings is described as "pure adrenaline-fuelled drama... Whether diving off 75-foot Jamaican cliffs into the ocean, recreating 'Cool Runnings' or meeting Jamaican celebrities".
Born in the southern city of Port Elizabeth, Steenkamp moved to Johannesburg six years ago to pursue her modelling career. She had dated Pistorius for a year.
After a tear-filled court appearance Friday which saw Pistorius break down repeatedly in the dock, a source at Brooklyn police station in Pretoria said the track star had "slept very well."
The 26-year-old had sobbed as Pretoria magistrate Desmond Nair announced a single charge of killing Steenkamp.
The medal winner was expected to receive visits on Saturday from family and from members of his defence team, who are preparing for a bail hearing that will begin Tuesday and what is expected to be a lengthy trial.
The state is expected to strongly oppose any effort to allow him to return to his home pending trial.
Prosecutors will argue the murder was premeditated, meaning he could face a life sentence.
In a statement issued by Pistorius's family and management company after the court appearance, the fallen star said "the alleged murder is disputed in the strongest terms."
He also offered his condolences to those close to his former lover.
"Our thoughts and prayers today should be for Reeva and her family -- regardless of the circumstances of this terrible, terrible tragedy."