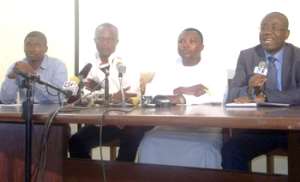 Nyantakyi, Sani Darra, FA spokesperson, Appiah and his right hand man Maxwell Konadu at the conference
The country's football governing body, the Ghana Football Association (GFA) has blamed the Black Stars' below average performance at the Africa Cup of Nations (AFCON 2013) on two factors- quality and commitment.
GFA chief Kwesi Nyantakyi told newsmen at his outfit's Accra secretariat yesterday that the two virtues were lacking in the team, hence their abysmal performance. He added that his outfit  had diagnosed the problem and was looking for answers to address the situation.
Mr Nyantakyi revealed that the team had struggled to win five games in a row in tournaments and that compelled them to procure the services of a team psychologist to address the problem.
Consequently, he rendered an unqualified apology to the people of Ghana for the team's wishy-washy performance in South Africa.
'The performance of the team was far below average.  Before the tournament we targeted gold but we placed fourth and broke the hearts of Ghanaians.
'We would like to render an unqualified apology to the people of Ghana for the team's abysmal performance.
'Before the tournament, we thought we had quality in the team. We realized later that lack of quality and commitment was the team's greatest challenge.
'We have a youthful team with great potential. I believe if we invest in them they will one day win gold.'
He pointed out that sacking the coach would not be the panacea for the problem at hand: Rather, he tasked the technical team to review the players' commitment level.
According to the FA boss, the technical team has World Cup qualifiers against Sudan, Zambia and other matches to really access the players.
Coach Kwesi Appiah accepted blame for the team's failure in good faith and noted that the AFCON 2013 experience would help him and his team to make better decisions in subsequent games.
He said high level commitment and adherence to disciplinary rules on the part of the players would be the watchword for the team.
To him, his doors are still open to all Ghanaians playing actively and regularly.
And like his president, he apologized profusely for the AFCON debacle.
By Kofi Owusu Aduonum