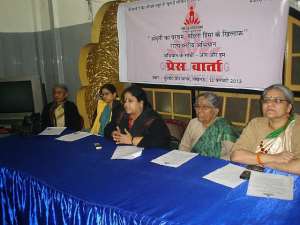 It was a Valentine's Day celebration with a difference. On 14th February, 2013, a vibrant crowd of Lucknowites marched from Begum Hazrat Mahal Park to Hazratganj-- the heart of the city—as a part of 'Odhani ka Parcham', a campaign to condemn violence against women.
The three hours long event was in support of the global campaign 'One Billion Rising' to stop violence of all forms against women. Women (and men too) from different strata of society, transcended boundaries of caste, creed, colour, and community, to come together under the aegis of one common agenda—rise, dance and strike to end violence against women.
It was a solemn mass walk on the sidewalks, with participants singing songs, raising encouraging slogans, and performing street plays. Although the march took place during peak traffic time, on the main road, no traffic movement was disturbed. Throughout the walk, one could see people carrying odhanis or dupattas (scarfs) and fluttering them symbolically as flags of freedom.
Several eminent social activists lend strength to the campaign by walking hand in hand with the less privileged folks. One such activist, Arundhati Dhuru, said to Citizen News Service – CNS that the campaign was part of a movement to represent billions of unheard voices through the strength of hundreds of people and would create enthusiasm in women to fight for their own rights. Another activist said that the campaign was a fight for the prestige of women in society.

The enthusiasm was infectious. When I asked a teenager about what she felt about such a campaign she replied happily that she had come with her friends to celebrate the best Valentine's Day of their lives. Same was the case with the senior generation. A lady in her early eighties said that taking part in this campaign made her feel strong even in her old days. When I asked a man the reason for being a part of the walk, he said that he too had sisters and was just fulfilling his responsibility by supporting the cause.
Some participants were seen giving pamphlets to the passersby explaining the aim of the rally. The best part was that the pamphlets were read by the people instead of being thrown away. Even the parents who came to fetch their kids from the nearby schools stopped to become a part of the campaign.
The event continued in its full fervor till the evening, connecting thousands of hearts and minds. It bonded people from different walks of life by its sheer zeal and fervour. The passersby applauded the spirit of young minds and the enthusiasm of old legs alike. It was a perfect blend of modern ideas and traditional odhanis which succeeded in awakening and celebrating the dignity of womanhood through a unique solidarity of purpose.
Mukta Srivastava, Citizen News Service – CNS