Pistorius shooting puts spotlight on S.African guns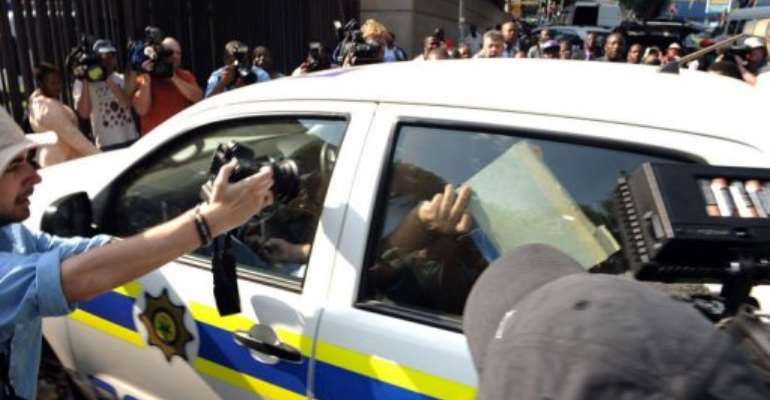 CAPE TOWN (AFP) - Charged with shooting dead his girlfriend, fallen South African athlete Oscar Pistorius has put a renewed spotlight on gun violence in a country where 42 people are killed a day.
The champion athlete is accused of firing four bullets from his 9-mm handgun into model Reeva Steenkamp in a premeditated murder on Valentine's Day.
"We have a very good gun law in South Africa and in the last ten years we have seen a 50 percent reduction in gun deaths," said Gun Free South Africa's Adele Kirsten.
"That's good but we still got too many arms and more work to be done, especially in banning civilians having hand guns that should be only for police."
Pistorius lived on a secure housing estate with stringent access control and towering electrified walls. Yet the double amputee Paralympian owned a gun, visited a firing range and spoke about false security alarms at home.
High level security is a familiar sight in the country's wealthier suburbs which are patrolled by fleets of private security with armed guards raisable by panic buttons installed in homes.
Rampant crime means an almost "continuous level of traumatic stress" with high levels of anxiety and fear, said Monica Bandeira, a psychologist and researcher at the Centre for Violence and Reconciliation.
"In terms of living in a place where our daily murder rate is higher than some war zones, it's envitable that there is an impact," she told AFP.
"In a sense one could argue that we are living in a low intensity war."
According to Gun Free South Africa, there were 1.5 million licensed gun owners and 2.9 million registered guns in 2011. The population is around 52 million people.
According to the UN Office on Drugs and Crime, the percentage of gun murders in South Africa was significantly less than that in the United States in 2007.
But the rate per 100,000 people was 17 percent in South Africa and 3.8 percent in the US.
Strict legislation on firearm ownership has been credited with slashing the gunshot homicide rate in the past decade amid an overall drop in murders.
-- Owning a gun is not a right --
Unlike in the United States, owning a gun is not a right and tough rules apply. Gun enthusiasts see this as having to plead to be allowed to protect the right to life.
"The only effective way to protect yourself against intruders is by using a gun. Either directly, or indirectly by summoning armed response or the police," said Wouter de Waal of Gun Owners of South Africa.
The group argue that few can afford private security and that the police, facing vehicle and staff shortages, are not always quick enough.
"Therefore, we don't feel safe in our home," he said.
But analyst Gareth Newham of the Institute for Security Studies said evidence showed guns in homes pose "a huge risk". The gun lobby debunks this view vigorously.
"Very few people successfully use firearms to defend themselves," said Newham.
"Because of the high crime rate that we do have, it does fuel a sense of insecurity and anxiety and then people think the best way to protect themselves is to purchase a firearm," he added.
Steenkamp's killing has also sounded alarms over violence against women.
The 29-year-old law graduate is one of around 2,500 women killed annually according to the South African Institute of Race Relations.
"The issue is less about firearm ownership and more about gender violence in this case and violence more generally," said Newham.
"The biggest threat to South African women are their immediate partners and family members and friends. Its not strangers," he said.
"We need to start looking a lot more carefully at how men treat women and their assumptions about their own masculinity. Using violence is seen as a sign of masculinity and that's wrong."