Egypt Islamist party holds pro-Morsi rally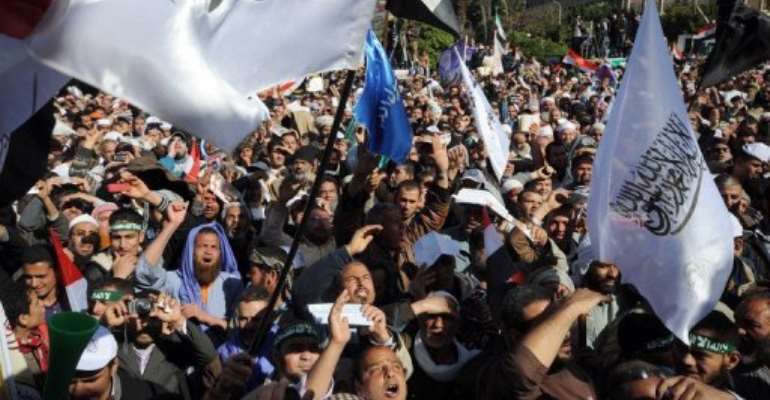 CAIRO (AFP) - Thousands of supporters of Islamist President Mohamed Morsi took to the street on Friday to denounce violence after weeks of bloody protests between police and anti-Morsi protesters.
The Islamist Construction and Development Party had called for the rally under the slogan "Together against violence", blaming the liberal-led opposition for unrest that has recently swept the country.
The opposition National Salvation Front "is responsible for the violence, they incite the people to hate the Islamists," said Hamdi Ramadan, 45.
"Their calls for Morsi to leave are going to destroy the country," said Mohammed Abdel Dayem, 39.
Protesters also called for the release of blind Sheikh Omar Abdel Rahman, holding up pictures of the Egyptian cleric jailed in the Unites States for his role in the 1993 World Trade Center attack.
"Islam is coming", "The Koran is our constitution!", demonstrators chanted as they marched towards the main rally near Cairo University.
"Morsi! Morsi!" others cheered as they waved Egyptian flags and held up banners that read "No to Violence, Yes to Sharia" or Islamic law.
The Muslim Brotherhood, on whose ticket Morsi ran for the presidency, said it would symbolically join Friday's rally, without mobilising its supporters on the street.
Egypt has been deeply divided between Morsi's mainly Islamist supporters and a wide ranging liberal-led opposition calling for rights and demanding the separation of state and religion.
In recent months, Egypt has witnessed regular, often bloody, protests against Morsi.
His opponents say he has betrayed the revolution that toppled Hosni Mubarak, accusing him of using his power to promote the interests of his Muslim Brotherhood, long banned under his predecessor.
They also accuse him of failing to reform the interior ministry whose police has been accused of abuse and corruption.