Fetish Priest Rapes Woman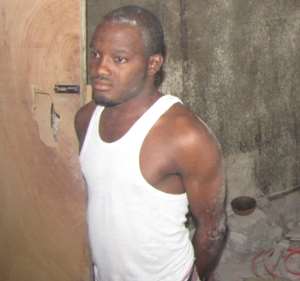 Inusah Mahfuz
INUSAH MAHFUZ, a 29-year-old spiritualist who works with Nana Sikaoboanipa, a popular spiritualist in Accra, is in the grips of the Sakumono Police for allegedly raping a 23-year-old married woman who had gone to his shrine at Klagon near Tema to seek help.
Inusah, together with his colleague Yakeen, who is currently on the run, allegedly gagged the victim with a handkerchief and forcibly had sexual intercourse with her. The two earlier lured her to the shrine in a bush at Klagon, under the pretext of performing rituals.
Deputy Superintendent of Police (DSP) Reuben Dugah, Sakumono District Crime Officer, who confirmed the incident to DAILY GUIDE, noted that barely two months ago, the victim heard announcements of Nana Sikaoboanipa's spiritual practice on radio.
On Saturday, February 9, 2013, at about 12midday, the victim, accompanied by a witness in the case, went for consultation at the shrine in order to re-establish contact with an old friend who is domiciled in the United States.
DSP Dugah mentioned that upon their arrival, they met the suspects who took the victim into the consultation room whilst her friend and her little child were made to sit outside, adding that while inside, the victim was made to pay an amount of GH¢150 as consultation fee, give a bottle of Schnapps and produce two white handkerchiefs for rituals.
The victim, who did not have the requested amount, according to the crime officer, collected additional money from her friend.
DSP Dugah mentioned that the suspects, after obtaining the said items, kept the victim in the room for well over two hours, during which they both forcefully had sexual intercourse with her.
The suspects, after the act, used one of the white handkerchiefs to wipe fluids from the victim's vagina, claiming that it was what they would use to perform the rituals for her.
After the act, the suspects were said to have warned the victim not to reveal the incident to anyone, else they would make her go mad.
The victim, after leaving the place, mustered courage and revealed her ordeal to her friend who advised her to report the matter to the police.
The victim was said to have reported the case to the police and a police medical form was issued for her to attend hospital for examination and report.
The endorsed medical report was later returned to the police to assist in investigations.
The police, on Wednesday, February 13, 2013, raided the said shrine and arrested Inusah Mahfuz after a fierce struggle between him and the police officers, while his accomplice, Yakeen, fled upon seeing the police.
The police mentioned that Inusah would be arraigned when investigations were completed while they hunted Yakeen.
From Vincent Kubi, Sakumono