Multimedia Group in Kumasi touches hearts on Vals Day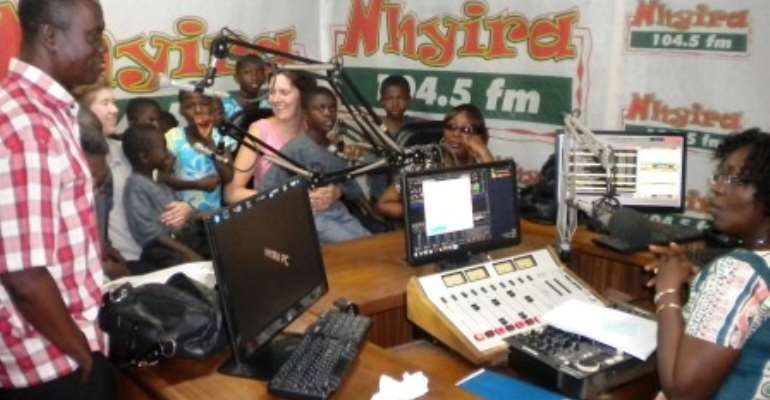 It's a season of love and most residents in the Garden City are in the mood of the Valentine's Day.
Petty traders are busy making sales from merchandising chocolate whilst other shops are busy devising innovative strategies to encourage more Vals day shoppers to purchase gift items.
Stations under the Multimedia Group in Kumasi, Luv Fm and Nhyira Fm have lined up series of events to excite listeners and add value to the season.
Nhyira Fm's 'Obra' talk show hosted inmates of the All Nations Children's Home in a special on-air Vals Day event.
Founder of the Home, Philip Kusi Nyamekye, narrated his past unpleasant experience which motivated him to establish the home, now accommodating 45 inmates.
A number of listeners who said they were touched by the programme phoned in to make several donations to support the upkeep of the children.
Programme Host, Mama Efe Amanor, emphasized that "love is beautiful to give and show", hence the need for Vals Day enthusiasts to turn attention to the needy in society.
Meanwhile, the traditional town of Offinso in Ashanti is witnessing perhaps the biggest crowd ever as Nhyira FM hosts a musical extravaganza as part of Valentine.
The station is collaborating with Emass Hotel for the event which will feature hi-life greats, including Thomas Frimpong, Pat Thomas, Nana Aboagye Da Costa.
Side attraction includes popular actress, Rose Mensah, popularly known as "Kyiewaa" who will be Master of Ceremony (MC). She promises fans of a memorable show.
Residents of Offinso and surrounding communities say they are delighted to host, for the first time, such a big event.
Patrons of Luv Fm's Valentine's Day promotions "The Luv Couples Game" have been proving how well they know their partners – they have been testing their knowledge about each other live on air.
The most exciting segment of the promo is the "Surprise" or revelation lifeline, where calls are made to parents and siblings of partners to crosscheck some facts live on air.
Winners of the game, Joann Tagoe and Nana Gyasi Asiedu, are being treated to a weekend's stay at the Golden Tulip, Kumasi City.
Others won attractive valentine packages from sponsors, Daviva Fashion Ghana, St. Ben's Jewelry, Today's Man and Woman Unisex Shop and Fred Craft N Things.
Luv Fm will partner Golden Tulip to climax the season with a Valentine Colour Jam at the Drive Night Club.
Story by Kofi Adu Domfeh