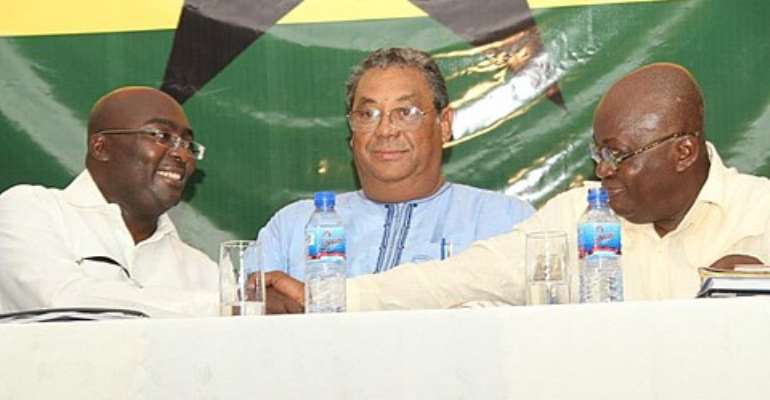 The New Patriotic Party, the party of the many who believe in development in freedom, is gradually being redefined in Ghanaian politics. In the minds of at least four million voters we stand for nothing; to them, we are unprincipled, greedy, tribalistic, pompous, overeducated, self-centred. They have made a bold and resounding statement that they prefer poverty, lack of development, a chaotic and debt-ridden country under the NDC, than the prospect of facilitating NPP's return to power.
Granted, supporters of NDC are largely uneducated and brainwashed – yet in so far as they give their leaders the thumbs-up to remain in power, you cannot fault the party and its leaders for courting such a support base. After all, it would be irrational for any political party not to play to its strength.
I would even go further and congratulate NDC for remaining faithful to its supporters and fan base. The party knows what they want, and it continues to give them what they want in return for their mandate.
The NDC doesn't pretend to love Ghana more than its voters, so instead of building roads, making the education system quality, free and accessible, improving the quality and effectiveness of the health-care service, building a strong economy and making Ghana a developed country for the benefit of all Ghanaians, the NDC has a "Better Ghana Agenda".
To the NDC, the agenda means "whatever we can get from the state for our own people". You can call it handouts. The question is: why not? Is this not the communism that Karl Marx and the likes of Nkrumah, Rawlings, Kojo Tsikata, John Evans Atta Mills and now President Mahama have so long preached? So who cares if the NDC uses all the resources in Ghana's kitty to fund a re-election?
To the NDC, that is what equity is all about. So you should not blame party leaders if they share cars, laptops, money and contracts to their support base in the full sight of the millions of Ghanaians who they are convinced won't vote for them.
The strength of the NDC is its timing. It can keep its supporters hungry for three years and eight months but feed them in abundance two months to election, and it will be guaranteed votes because its supporters are so gullible that they will forget the pain and anguish of the lost years. That is what NDC truly stands for – and yes, it has always delivered on that promise. Hence the befitting slogan – E dey be-e-e-e kɛkɛ!!
But my question is: "How different is my party, NPP, from NDC?" What makes NPP unique? Is NPP more of the same or does it stand for something different – something substantial and distinct enough to court sympathy from the 6% or so of the population who are floating voters and who will tip the balance towards victory, come 2016? So far, it appears that we, as a party, are not doing enough to explain what distinguishes us. Looking in on NPP from the outside, it's no rocket science to say that our party has great difficulty in attracting the youth, the next generation voters. There are many reasons for this, but in this article, the first in a series of four, I will concentrate on two such issues.
SECOND-TERM DISEASE
As the English historian John Dalberg-Acton said, "Power tends to corrupt and absolute power corrupts absolutely." Indeed, I would argue that political power and the insatiable appetite for money have corrupted and enslaved Ghanaians. Coming out of the HIPC (Heavily Indebted Poor Country) programme should have been a launch-pad to sustained economic prosperity.
The vigour with which Ghanaian entrepreneurs and expatriate institutions invested in that beautiful country called Ghana, the banks that sprang up, the unparalleled social interventions such as the School Feeding Programme, National Health Insurance Scheme, Metro Mass transit buses, the Livelihood Empowerment Against Poverty (LEAP) programme, etc, should have been enough to keep NPP in power for another decade at least. But the people, the beneficiaries of all these goodies, thought otherwise.
To them, the NPP was only giving them crumbs and behind their backs, we were taking and sharing all the juicy plunder among ourselves. Although posterity has judged us right today, back then – by our own actions and inactions – one could not but agree that the majority of Ghanaians, even within the NPP fraternity, believed, because of the allegations of corruption surrounding the party, that the NPP leadership was drifting into an abyss.
Haruna Esseku, our former chairman, called it "kickbacks". John Agyekum Kufuor said: "Corruption has been with us since the days of Adam." And 17 senior members of the party called it "vote for me make I chop President".
The NDC rightly feasted on the rubbish left over from NPP's self-destruction. In fact, the NDC beat the corruption gong from the cities to the towns to the villages to hamlets, ensuring that every Ghanaian was aware that NPP was milking the state dry.
Jerry John Rawlings called Kufuor "Ataa Ayi"; Asiedu Nketia called the senior party members running for the flagbearership "17 thieves going to select a chief thief"; Fiifi Fiavi Kwetey and his so-called Setting the Record Straight brigade went as far as to state boldly that Kufuor and his cronies had "shipped all the gold in Ghana's vaults abroad". Lest I forget – on the socialist corner was the ever-disputed champion, Kwasi Pratt, and his pressure group, the Committee for Joint Action (CJA).
I still remember and their strident stance on "Hotel Kufuor/Hotel de Waa Waa"; Gizelle Yazji and the "royal twins"; EO and the "Jubilee (black gold) fields"; Kwasi Adjei and the "Indian rice masters"; MASLOC, or "fa woto begye loan"; Charles Wereko Brobbey/Kwadwo Mpiani and "[email protected]/yen ara asase ni" . . .
As if this was not enough, all of a sudden, the united NPP went into a trance. We had NPP MPs fighting to retain their seats. NPP delegates became brokers, selling candidacies to the highest bidder. Arguably the most lucrative employment was "DELEGATE". This "cash for honours" behaviour went as far as congress, where John Alan CASH Kwadwo Kyeremateng had to slug it out with Nana Addo Dankwa OLD GUARD Akufo-Addo.
The old guard won and the cashmen decide to resign and withdraw all their cash. This marriage of convenience fuelled more negative perceptions and doused the NPP's Development in Freedom flame. Ghanaians therefore bought the stolen but befitting change slogan "Yere sesa mu". Although this was coined by the CPP's Paa Kwesi Nduom, the NDC wrestled control of it without a fight. After all, Nduom was part of the NPP regime, so he did not represent any meaningful change. Put simply, he would not and could not win.
OPPOSITION AND BEYOND
My heart still bleeds that we lost the 2008 election by the skin of our teeth, but with hindsight I believe it was the best thing that could have happened to our great party, NPP. It deepened our democracy; it cleansed us of the ineptitude that was creeping into our party and baptised us anew.
We also had the opportunity to respond to our accusers. In this way, many Ghanaians – at least, those from the NPP fraternity and open-minded floating voters – recognised that most of allegations levelled by the NDC were, in Fiifi Kwetey's own words, mere political talk.
Thankfully, we regrouped and won the 2012 election and even though others have tried to rob us of that sweet victory, we anticipate that the courts shall restore our glory in a matter of months.
However, my experience of the 2012 campaign gives me cause to worry. That is to say, although we seem to be a united party, and have worked hard to recover lost ground, we still suffer from "Youth Alienation Syndrome".
It is hard to find any young NPP supporter who is projecting the party through sheer conviction. Instead, we have become microwave politicians: we turn up only when the election is cooked. Days into an election, when we are almost sure of victory, we all come out of the woodwork, scrambling for whatever we can get.
After all, we know that is when the leaders, those who are seeking real power, will release funds. And indeed, the leadership, the MPs, the diasporans and the party donors release funds for party activities only during that time, in the hope that NPP will win an election.
In return, they hope to benefit from ministerial appointments, contracts and all manner of political perks and positions where they will be able to replenish their depleted accounts. As for the full-time young politicians, it has become a "battle of the loudest".
If they cannot get a direct platform from the party, they make themselves heard through a pressure group. It is scary to hear TESCON's slogan change from "Commitment without inducement" to "Commitment, but with small inducement". The days of service freely given, fighting for a just cause purely on principle and with conviction, are disappearing before our eyes.
What I find eerie is the notion of people fighting for internal leadership of the party, not to serve, not to make the party attractive or to boost our fortunes, but rather to scheme to milk the party of the dues and meagre resources that we have all contributed.
Today, our measure of political success had nothing to do with the principle of service to our country and giving our all. Nobody wants to die a pauper. Nobody wants to be remembered for unconditional sacrifice. The measure of successful politicians is the number of cars, prime real estate and money at their disposal.
Now the model of a successful young politician is the likes of Sam Okudzeto Ablakwa, Omane Boamah, Felix Ofosu Kwakye et al, whose riches can be traced directly to the republic by virtue of their association with the NDC. The youth of the party are no longer affiliates of the party but appendages to individuals in the party. The lines have been drawn clearly, as if politics was all about money.
In conclusion, I pose these questions: "How different are we from the NDC? How different are our youth from the NDC's? Why seek power if we only intend to repeat what we are preaching against? Is it just a matter of 'soldier go, soldier come', 'chop small leave some make I come chop small too'?"
I am afraid to say, that is not what the New Patriotic Party stands for. We stand for no man, but for Ghana. We believe in the true emancipation of the Ghanaian; the ability of the individual to use his or her ingenuity to create opportunities and engage in enterprise; a society that meets the aspirations of its people.
So, to the selfish, money-making and greedy politicians, I say, stop pretending and stop corrupting the youth. I wish you well if you decide to join NDC. At least, then we will know that you came into politics just to make money.
For me and my house, we shall remain with NPP - in service to God and country. Ghana is looking for serious people, people with unconditional love; people who are prepared to sacrifice, stand and fight for a just cause - to rebuild our motherland.
The voice of this minority is often the voice of real change. To the DELEGATES, I say, please stop selling your votes. Vote for people who stand for truth and for people who want to build this beautiful country.
In my next article, I will share my thoughts about NPP and whether or not the tribalistic tag is a mere perception or reality. Until then, stay blessed and believe in Ghana and in DEVELOPMENT IN FREEDOM!!
Andrews Owusu Osei, popularly known as Andy Owusu, holds Master of Laws degree in criminal justice and child protection. He is member of the NPP's UK branch.
He is also the author of several articles, including "The Ghana Constitution and Diplomacy – A Call to Fix Article 73 Breaches".