SIDALCO Boss David Lamptey Left No Legacy In Osu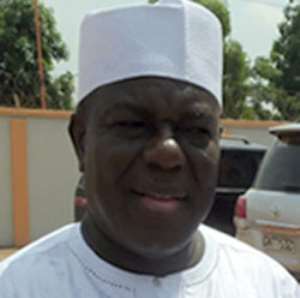 The Late SIDALCO Boss, Hon. David Lamptey
In Ghanaian culture we don't say bad things about a dead person however, reading Duncan Williams testimony "The Legacy of David Lamptey" I think it is a good time to write this article.

I am an indigenous of Osu where David Lamptey hails from and even though I am too young to tell much of his upbringing, I can sincerely say that David hailed from Osu Ashanti Quarter of Osu. I got to know him when he contested the Osu Klottey seat for the NDC amidst controversy because he crossed carpet from NPP and took a spot which we deemed was late TeiOkonor opportunity to become our parliamentarian.
Shortly after Lamptey's years in Parliament he became a filthy rich man. Coupled with a successful business, and a political giant in Atta Mills government, David Lamptey never looked back to improve the lives of the people in Osu with any kind of infrastructure. He lined up people in the street and gave out money, he threw money on the ground for people to fight over, and yes, that's typical of a Ga man with money.
It was sad to see the family, home of a rich man the morning of his funeral. I was shocked that David Lamptey could not even renovate the family home in Osu but yes that's the mark of a typical Ga man. I would have been grateful to write this article to outline what Lamptey has done for the people who made him who he was.
David Lamptey could have adopted the Osu Salam School or any school in OSU and renovated it, which would have been a great legacy, that children of various generations could benefit from. The people of Osu would have appreciated a much more modern castle clinic which caters to most old folks who reside around the castle.
But this article is not just about David Lamptey, it's about Ga's and their legacy. In Osu, where I hail from, we have seen Harry Sawyer who was once a minister of education but he did not build or renovate any school in Osu.
We have seen Mike Ocquaye (NPP) rise in parliament but yet his family home in Osu Agblanshie where he hails from still looks disgusting, have not contributed to any development in osu in anyway, and yet he stands tall in parliament to boast of his accolades. Professor F. T. Sai and daughter Aboshie Sai hail from Osu Anhor.
He rose to the ranks of a World Bank senior advisor and advisor to President Kuffor he won so much international awards in the form of money, but still to this dayhe has no legacy in Osu. It's a shame and I can continue with so many other names, however, it's not necessary.
What I want to point out is that your legacy is most important and when you have departed this earth it's your legacy that will tell the story. David Lamptey, Tei Okunnor were indigenes of Osuand well known politicians who made money, but Osu cannot boast of a school, Hospital, Community Center, Library or anything that Duncan Williams calls a legacy to be protected.
It will be important for Gas to emulate from their counterparts from other parts of the country who put developing their little villages into magnet. Go to the Akan areas in Ghana. David Lamptey rest in peace we will learn from your mistakes.