Special News Analysis On Water Bodies: The Dirty Tears of Mother Ghana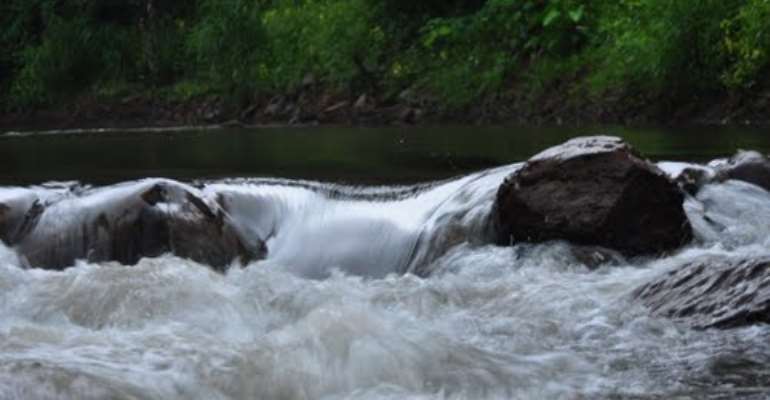 Anytime I remember the song "Ghana, my happy home..." I am filled with sadness. Sadness may even be an understatement, maybe gross disappointment will do.
This is because the lyrics of that song do not depict the truth of the state of our present Ghana. I am young; I haven't been on earth for long but this is not the Ghana I envisioned when I was taught that song years ago by my Aunty.
The words of the song go like this: Ghana, my happy home. Land of rich resources, land of mighty talents and smiling faces and glorious cultures. I will die for thee, glorious Ghana. I will uplift your name in all I think or speak or do.
In this our era of political upheaval, Ghana is definitely not a happy home. There is always the incidence of one political party being against another. Someone always says or does something that causes a political circus.
This removes the main goal of national development from the picture and the "little people" are those who suffer. This reminds me of a popular proverb "when two elephants fight, the grass suffers".
Who ever said it was fair for the grass to suffer? And who is speaking up for the grass?. Even though this is unfortunate, it is not the real source of my sadness. The next phrase does the trick; "land of rich resources". Rich resources such as oil, gold, diamonds, timber and invaluable human labour are our country's pride and joy.
Gold plays an important part of our country's history and hopefully, our future. This is a resource that even has a place on our flag. That is how important gold is to our country. As children, we were told of a time when one could walk on gold in our country. I had always wondered how it would feel like to actually walk on gold.
It took my imagination to a whole different level. This was one of the reasons why foreigners came into our land in the first place and upon seeing the sheer abundance of the mineral in the country named our country, Gold Coast.
Gold is within the earth and to extract would mean the destruction of the earth. Though dangerous, it is just a means to an end but what we can console ourselves with is that, there are certain mechanisms put in place to make sure that the land is totally rehabilitated to a state close to what existed naturally.
These mechanisms include certain organizations like the Environmental Protection Agency and the Minerals Commission. They are what I would call the bodyguards for Mother Ghana. It is their duty to make sure that anyone who mines for gold does so in strict accordance to the rules and laws for the protection of our environment.
Mining companies, to prove their genuine concern for the environment, have gone a step further to create the Environment Sections or Departments in their companies. These departments function as the mouthpiece of the environment.
They make sure that their gold production activities do not impact negatively on the environment either through the destruction of the terrain or spillage of poisonous or toxic substances into the environment.
Once a while, we hear of the spillage of poisonous substances into the environment particularly into our water bodies. This creates so much media uproar and for good reason too, because our resources are gifts which are to be valued.
Our water bodies are also part of our resources. Ghana being a country of rich culture which indulges in the use of proverbial language, personifications and metaphors , it is safe to say that these water bodies are the happy tears of our mother Ghana which she has blessed us her children with.
We used to boast of the many rivers and streams we have in our country; River Pra, River Ankobra and the like. These rivers are held sacred by all Ghanaians as they play important parts in our stories of long ago. They hold a special place in the heart of every indigenous Ghanaian.
These rivers still exist alright but not in the state it is written about in our primary textbooks. "This is normal", one would say. "Nothing stays in the same nature for a very long time. There are bound to be changes"; others would say, but the change I am referring to here is far beyond natural.
I had the opportunity to see the state of River Ankobra, River Mansiso and even River Pra. These rivers have turned into dumping grounds for waste from local gold producing individuals normally known as galamsey operators.
The rivers have turned murky brown in some areas and the silt from these operations has swallowed the water, gradually causing the river to dry up at other places.
Galamsey is no longer a thing done in secret; it is now a profession. Driving along the Bogoso and Prestea road, one is very likely to chance upon many galamsey operators. They go on carrying out their business, not caring who is looking on. Latest development shows the influx of foreigners within the galamsey operations.
These operations are such that, they are illegal and have no mechanisms to keep them in check. The results? Abandoned ditches which have spoilt the terrain, making it impossible to farm on or perform any kind of activity on, unless refilled; seepage of silt into water bodies which has destroyed aquatic life and made life difficult for the inhabitants who depend on the water for their daily use.
Many talks have occurred concerning the issue of galamsey yet nothing, in the form of a solution is coming up. The idea of small scale mining was laudable but it was just a dent of a solution. The problem is persisting and it is increasing at an alarming rate.
There have been reports of a significant reduction in potable water globally. It is estimated that in some years to come, water will be very difficult to come by. On an online BBC News article by Alex Kirby with the headline UN warns of future water crisis, it was said that by the year 2020, the average water supply per an individual globally will be a third smaller of what it was as at 2003 when the article was written. The warning was said to be coming from the World Water Assessment Programme (WWAP) which combined the efforts of 23 UN agencies.
Treated water is now very hard to come by here in Ghana. Many households in prime areas like Adenta and Madina in Accra, the capital of Ghana are without treated water. People have to buy water from "water traders on wheels" at outrageous prices. The source of the water they sometimes bring is even unknown. Earnestly, it may be manageable for those who can afford but what happens to the poor man in the same area who barely manages to afford three square meals a day? "Ghana, my happy home"?
Some areas in the Western region like Bogoso, Prestea, Appiatse and Kumsono face the same plight. Almost everyone in these towns depend on streams, rivers, boreholes and wells.
If the statistic is anything to go by, then we are in serious trouble in Ghana especially as, the only sources of water left are being polluted by galamsey activities. I believe so much in the Holy Child School motto Facta Non Verba- Action, Not Words. If anything can be done, then I implore with all the reverence I can muster up that, it should be done NOW. These activities are killing our waters. Mama Africa is sad. Her tears are dirty. Help!
***The Writer, Gifty .M. Narvee, Is A National Service Personnel***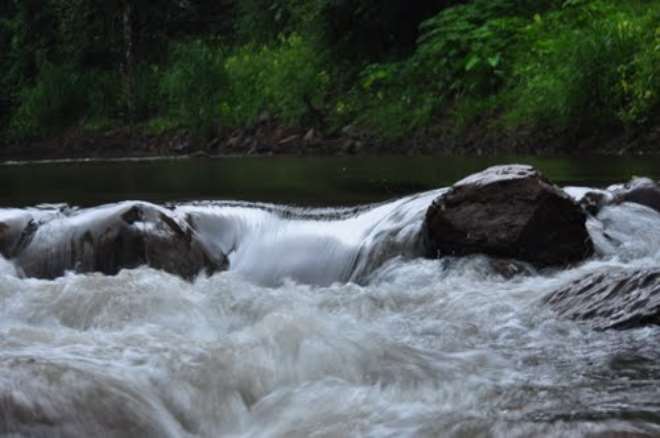 [1]WATER