Nigeria: A declining regional power?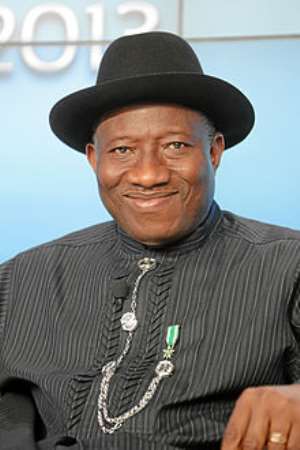 Nigeria leadership is critical to West Africa's security
Undoubtedly Nigeria is West Africa's only regional power. Its economy of US$337.9 billion (2010 estimate) is the biggest in West Africa and second in Africa after South Africa. The country is poised to overtake South Africa as Africa's biggest economy. Her more than 150 million people, over 36 billion barrels of untapped crude oil and huge deposit of natural gas estimated to be about 120 trillion cubic feet or about 3% of the world's total make Nigeria a key strategic economic power. With a defense budget of about US$2.2 billion (348 billion naira-2011 budget) and a total active manpower of more than 80,000 soldiers, Nigeria's military is not only the biggest and best funded in West Africa but also the most powerful in the sub-region. In the 1990s, the country's pivotal role in ending the brutal and bloody civil wars in Liberia and Sierra Leone (that killed hundreds of thousands of people) won her approbation regionally and beyond.
A declining regional power?
However, many who have watched Nigeria since the late-1990s are feeling uneasy about her declining status. The 2012 Mo Ibrahim Index of good governance ranked the country 13 out of 15 best governed countries in West Africa and 43 out of 52 in Africa. In the West African sub-region, only Guinea Bissau and Ivory Coast had the worst governance situation than Nigeria. In the last six years, the annual Failed States Index jointly published by the Fund for Peace and the Foreign Policy magazine has consistently named Nigeria among the top 20 most failed states on the planet alongside Afghanistan, Central African Republic, Chad, DR. Congo, Guinea, Haiti, Iraq, Ivory Coast, Pakistan, Somalia, Sudan, Yemen, and Zimbabwe.
In the ongoing war in Mali, Nigeria (the regional power) has been missing in action. Although President Goodluck Jonathan pledged the largest troop numbers as part of the ECOWAS multinational force, Nigeria could not mobilize its military capabilities and assets or that of ECOWAS' countries to lead the assault against Tuareg and Al Qaeda fighters. France, a regional great power (not a global power) located thousands of kilometers in Europe demonstrated that it is still a force when it comes to African affairs. In less than 30 days, French forces succeeded not only in halting the militants' advance to Bamako but successfully pushed them out of the cities and towns they had occupied for nearly a year.
As France's hi-tech rafale fighter jets and helicopter gunships bombed and drove the militants out of their hideouts in northern Mali, Malian women and children in Gao, Kidal and Timbuktu in appreciation of the French effort began singing praises to France, describing French soldiers as agents of God and mocking Nigeria, and other ECOWAS states for their ineffective leadership and dithering. On January 27 this year, Yayi Boni, Africa Union chairman and president of Benin Republic, indicted the Africa Union, his own leadership and that of Nigeria, the regional power. He praised France for her timely leadership role and military intervention, saying this is what "we should have done a long time ago to defend a member country."
But Nigeria's poor show in the ongoing crisis in Mali is nothing new. During the 2011 post-election violence in Ivory Coast which saw another intervention by France, Nigeria's leadership was conspicuously missing. Though Nigeria supported military action against Gbagbo, it could not translate the rhetoric into effective action.
In the Gulf of Guinea for example, West Africa criminal gangs, Asia and South American drug cartels, European and Asian fishing and chemical companies and Al Qaeda backed militants are slowly turning the region into a haven for international narcotics and human trafficking, weapons proliferation, terrorism, maritime piracy, cyber fraud, illegal fishing, dumping ground for industrial waste, and other transnational criminal activities. Nigeria's ostrich approach to these problems has been uncharacteristic of a regional power.
In fact the maritime insecurity and many of the pirates' attacks against oil tankers and cargo ships have emanated from within Nigeria itself. On January 16, 2013, pirates seized a Nigerian-owned cargo ship (ITRI) in Abidjan and successfully carried away the 5000 tons of oil it was carrying worth $5 million. On Sunday (February, 3, 2013) a French-owned tanker (The Gascogne) was also seized in the same Abidjan area by Nigeria pirates. Commenting on the seizure of the ships in Abidjan, Noel Choong who heads the Piracy Reporting office of the Malaysian based International Maritime Bureau noted that: 'It appears that the Nigerian pirates are spreading. All of these vessels were tankers carrying gas oil. They are all taken back to Nigeria to siphon off the oil, and then the crews are freed.' According to Timothy Walker of the Institute for Security Studies in Pretoria, South Africa, in 2011 a total of 49 pirates' attacks were recorded in the Gulf of Guinea. This increased to 58 in 2012.
There are indications that the 2013 piracy figures may surpass that of 2012. According to Mr. Jeffrey Hawkins, Consul-General of the United State Consulate in Lagos-Nigeria, there were more than 24 attacks between January and March of 2013. Speaking during the Nigeria Maritime Expo (NIMAREX) in Lagos, Mr. Hawkins recounted the number of pirates' attacks that took place in February alone in Nigeria's coastal waters: 'On February 4, in the Lagos anchorage. On February 6, along the River Forcados. On February 7, off Brass. On February 10 and 11, two separate attacks off Bonny. On February 17, two separate attacks, one in Lagos and one off Brass. On February 22, again off Brass, and on February 25, in Calabar Channel. And that's just three weeks in February'.
The consequence of the increase in piracy in the Gulf of Guinea and the role of Nigerian pirates in it is that regional maritime trade and security are being undermined a point Mr. Hawkins highlighted:
'From cargo theft to kidnapping for ransom, the Gulf of Guinea is becoming known as a very dangerous place to do business. It is becoming known as a place where you must sail in convoys and where you must hire armed guards- who themselves are Nigerian police officers or sailors and rhetorically should have responsibilities other than serving as hired guns. The Gulf is becoming known as a place where you must prepare your crew to be attacked at any time. [And] it is becoming known as a place where maritime security enforcement is weak, when it exists at all...We hear – from government officials and from industry executives – that billions of dollars are lost each year, in stolen cargo and stolen ships. Some senior Nigerian government officials have publicly estimated that the losses from crude oil theft alone amount to more than $7 billion annually'.
In northern Nigeria for example, more than 2000 people have died since the uprising by the Boko Haram terror group began in 2009. In fact, a large part of northern Nigeria is technically under the control of Boko Haram which continues to terrorize citizens and foreign workers with impunity. In March 2013 Boko Haram ambushed and killed 46 police officers in north central state of Nassarawa. In April 2013 effort by the Nigeria's military to wrestle control of the region from Boko Haram led to a bloodbath in which 185 people died and more than 2200 houses were destroyed in the fishing village of Baga in northeastern state of Borno. In the middle belt and in the Niger Delta region, armed robbers, kidnapers, hostage-takers, oil smugglers, religious, ethnic tribal and communal conflicts continue to make life difficult for millions of people and businesses. In December 2012 the mother of Finance Minister, Ngozi Okonjo-Iweala was kidnapped. In February 2013 seven foreigners working for a Lebanese firm were also kidnapped and later killed. In February 2013 seven French citizens were kidnapped in Cameroon and brought to Nigeria. In April 2013 militants ambushed and killed 13 police officers who were on duty in the restless Niger Delta region.
The use of smart weapons by France and its victory over the rebels illustrate the need for Nigeria to have the weapons that will enable her to achieve air superiority and establish herself as West Africa's true naval power. The 2012 publication of Nigeria's military assets by the Military Technology journal offers a glimpse as to why the armed forces have not been able to bring security and stability to the country and the region. It shows that despite being a rich country, Nigeria's Navy does not have a single submarine to beef up its coastal defenses and police the crime infested waters of West Africa. The authors observed that 'many ships are in very poor conditions due to lack of maintenance.' They further added that for the air force, the 'serviceability of most of the aircraft is very low, and many airplanes are stored in non-flyable conditions while others have been effectively abandoned due to lack of maintenance.' The non-serviceability of most of the country's planes partly underscores why Nigeria cannot project power in the region and explains why Germany and Britain had to step in to volunteer to transport ECOWAS forces to Mali.
Among the global power elite, policy-makers and scholars, Nigeria's decline is a worrying problem. This is because in a rough neighborhood, conflict ridden and security challenging environment like that of West Africa, there is always the need for a regional power to maintain stability and order. But with Nigeria's inability to maintain security and stability both at home and in the region and with no viable candidate in the region to replace her, the future stability, security, peace and development of Nigeria and the region is in doubt. In fact Robert D. Kaplan's prediction of a 'coming anarchy' in the region may not be far from reality.
Consequences of the decline
One key consequence is that Nigeria's decline has led to greater instability and insecurity in the sub region as can be seen in Ivory Coast, Mali, Guinea and the narco state of Guinea Bissau.
Nigeria's decline has also created a power vacuum which is increasingly being filled by criminal gangs and hegemonic external powers notably France, the United States and Britain. France's intervention in Ivory Coast and Mali (both happening in the backyard of Nigeria busttress this point). On Tuesday 2nd April 2013 U.S. anti-narcotics agents entered the territorial waters of West Africa and arrested Rear Admiral Jose Americo Bubo Na Tchuto, a former Guinea Bissau's navy chief, on suspicion of being involved in narcotics smuggling into Europe. The arrest of Na Tchuto by U.S. agents in a region considered to be Nigeria's domain is another testament of how external powers are having a field day in Nigeria's backyard. In February 2013 Mali's future was decided in Brussels far away from Nigeria the regional power. If the power vacuum continues, it will have strategic consequences not only for Nigeria but also for the entire region.
Another consequence which can be observed from Nigeria's inability to solve its internal problems or provide leadership in the sub region is that the political and economic integration of ECOWAS as a regional bloc has stalled. This becomes clearer when ECOWAS is compared with other regional groupings such as ASEAN, SADC, and the EU, and the key role individual regional powers are playing in them. For example, the SADC region is considered the most progressive region in Africa courtesy South Africa. South Africa is frequently cited as a rising power with substantial growing economic, political, diplomatic and military power. South Africa is providing leadership, mobilizing, organizing and building coalitions on key regional issues with the countries in SADC. South Africa is counted among global elite groups and emerging powers such as G20, BASIC (Brazil, South Africa, India, and China) and BRICS (Brazil, Russia, India, China, South Africa) with influence and power to reshape the current global order. Meanwhile Nigeria continues to find herself in the club of G77. In July 2009, President Obama snubbed Nigeria, West Africa's regional power and visited Ghana in his first visit to Sub Sahara Africa. White House sources say from June 26 to 3 July 2013 President Obama will visit Senegal, South Africa and Tanzania once again ignoring Nigeria.
The analyses above reveal four facts. First Nigeria's internal security challenges are undermining its status as a regional bulwark. Second, the country's weakness is affecting the security of her neighbors. Third Nigeria's internal security challenges are providing criminals with ammunitions to expend. Fourth Nigeria's internal problems and its inability to provide leadership in West Africa are costing her diplomatic recognition and respect.
Reviving Nigeria
What can be done to turn Nigeria around? First, the Nigerian state must recognize that its decline is self inflicted even if external forces and events have played a role in it. At the heart of the problem is the neo-patrimonial power system that serves only the interest of the few and which has led to what Patrick Chabal of Kings College-London has termed elite 'enrichment without development.' The elite capture politics with its concomitant by-product of extreme poverty, inequality, conflict, terrorism, armed robbery, kidnapping, violence, cyber fraud and corruption ought to be dismantled. How can such a system be dismantled? This could come in a form of a very broad comprehensive reform to be carried out in all the institutions and sectors of the state: from the security establishment, presidency, judiciary, legislature, civil service, to the private sector. The reform should aim at not only undoing the opportunistic manipulation, neo-patrimonial and vertical power structures that have been constructed by the political elite but also allowing for a more active role by the civil society and the marginalized citizens to ensure greater democratic accountability, good governance, human security, and inclusive development in the country.
Who will carry out the reform and how? With so many entrenched interests in the country, it is difficult to think about reform from the top. A reform engineered from the bottom up by the civil society cum the masses might be the only viable option available to kick start the change badly needed to revitalize the country.
Nigeria's power holders need to realize that the country's position in the world is dependent on what it does first at home, second in West Africa and third in Africa. What it does at home must be to rescue the nation from the grips of the home-grown oligarchs and external parasites that have since independence been milking it, paralyzing it and preventing it from strongly playing its role as a true regional power. Any delay in carrying out the reform will not only make the 'paper tiger' and 'sleeping giant' stories that have long been associated with the country a reality but will also make the nose-diving decline of the country very hard to reverse.
By Lord Aikins Adusei
[email protected]