NCA releases Minimum Specifications for receivers of DTT in Ghana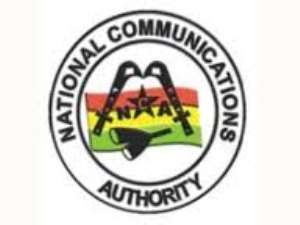 National Communications Authority (NCA)
Accra, Feb.11, GNA- The National Communications Authority (NCA) has announced the release of the Minimum Specifications for Receivers of Free to Air Digital Terrestrial Television (DTT) in Ghana.
The Minimum Specifications have been developed because the free to air terrestrial television stations comprising GTV, TV3, TV Africa, Viasat1, Net2 and e-TV among other telecommunication companies would migrate their transmissions from analogue to a digital platform.
A statement issued in Accra on Monday by Mr Paarock Vanpercy, Director General of NCA said it was in accordance with the Geneva 2006 Agreement for the International Telecommunications Union.
It said Digital Terrestrial Television offers improved spectrum efficiency compared to analogue TV.
It also offers enhance video and audio quality, it is interactivity, as well as increase programme choice.
The statement said the objective of the Minimum Specifications was to ensure that DTT receivers which would provide good quality video and sound for viewers and to ensure the lowest possible cost for free-to-air receivers.
It said in accordance with section 5(c) of the NCA Act 2008, Act 769, the Authority shall take the necessary steps to protect consumers from sub- standard products.
It noted that the NCA required that all DTT sold on the Ghanaian market to conform to the minimum receiver specification which was available on the Authority's website (www.nca.org.gh).
'Digital TV sets sold in Ghana shall pass a conformance test in order to obtain the 'Digital Ghana Thumb' which has been developed as a certification mark to help consumers and retailers through switchover in Ghana,' it added.
The NCA advised consumers of DTT services to look for the logo when buying digital TV equipment.
GNA