Dr Joyce Aryee asks Christians to stay united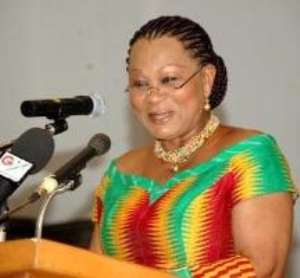 Joyce Aryee 2
Accra, Feb. 10, GNA-Reverend Doctor Joyce R. Aryee, Executive Director of Salt and Light Ministries, at the weekend urged Christians stay united to facilitate national cohesion, adding: 'A nation that stands together is a nation that stays together.'
She was speaking at the Launch of the 2013 Annual Bible Week Celebrations organised by the Bible Society of Ghana (BSG) in Accra on the theme: 'The Bible and National Cohesion.'
Rev Aryee said God created mankind in His own image and so if Ghanaians obey Him they would succeed in all their endeavours.
She said the good thing is that God never forsakes mankind even when they rebel against Him and is always ready to make a way for them if they ask for forgiveness.
Rev Aryee said whenever the people of Israel obeyed God, He gave them peace and that 'as Christians we are spiritual Israel and by the power of the Holy spirit, God will also grant us peace'.
She added that the deeds of God are wonderful because in the past God's words were spoken through the prophets but now God speaks to us through flesh and lives among us.
Rev Aryee asked all to belief in God and be humble before Him because without God there is no way for a nation to stay at peace and enjoys God's blessings.
She said the Nation boost of more than 67 per cent of Christians yet still corruption, bribery and other social vices are ascending.
'You cannot say you are a Christian if you cannot own a Bible and …those who have the Bibles do not have time to study it.
'Jesus has been given to us as the lover of our souls who can transform us to do the will of God,' she added.
The Bible Week Celebration is organised to draw attention to the centrality of the Word of God in the lives of the people and of the Church of God and to thank God for the gift of the scriptures.
BSG is a non-denominational Christian organisation with voluntary membership from individual Christians affiliated to the United Bible Societies which translate, publish and distribute at affordable prices the Holy Scriptures.
 
 
 
GNA