5 Ghanaians Get Brazilian Scholarships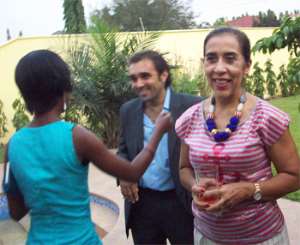 Brazilian Ambassador, Ms. Gala (right) at the send-off party
The Brazilian envoy made the remarks at a send-off cocktail party she organized over the weekend in honour of five Ghanaian students made up four females and a male, who have been awarded scholarships to pursue undergraduate degree courses in Agricultural Engineering, International Relations, Tourism, Public Administration and Law, under the Brazil – Ghana Educational Assistance Programme, which was established in the 1990s.
Every year, several Ghanaians are given the opportunity to undertake various undergraduate courses at a Federal, State or private universities free of charge through the scholarship Programme for First Degree Students (PEC-G).
After graduating, these students are expected to return to their countries of origin to contribute to the development of their homelands.
Ambassador Gala further counseled the beneficiaries to be good ambassadors and take their studies seriously, especially their Portuguese language to enable them have easy learning, as Brazil is a Portuguese-speaking country.
She indicated that there would be some challenges but with determination they would surmount them.
She also congratulated the parents of the students for taking the bold decision to allow their children to go to Brazil and study.
Madam Gala revealed that Brazil has opened her doors to thousands of students from countries all over the world through the educational scholarship programme to pursue courses in the various institutes of higher learning in the country.
The Head of Co-operation at the Brazilian Embassy in Accra and the Coordinator of the educational programme, Edinam Adzosii Adjei-Sika, a former beneficiary of the scholarship scheme, also advised the students to take their studies seriously and serve as good ambassadors of Ghana in Brazil.
She further stressed the need for the students to come back to Ghana and serve the country upon completion of their courses.
A representative from the Ghana Scholarships Secretariat, Stephen Takyi urged the students to make good use of the excellent opportunity given them and portray the good culture of Ghana.
He entreated them to come back to help in the development of their motherland Ghana.
Also at gathering were Dr. John Rex A. Gadzekpo, Director, Ghana Institute of Languages (GIL) and staff of the Portuguese Language Department of the Institute.
By Amos Amaglo