Three Korean doctors slain in north Nigeria: police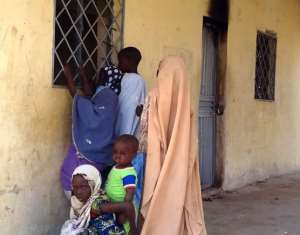 Children peep througth the window of a dispensary, the scene of a violent attack, on February 8, 2013 in Kano, Nigeria. By Aminu Abubakar (AFP)
KANO, Nigeria (AFP) - Men armed with knives slit the throats of three South Korean doctors in a pre-dawn attack Sunday in a volatile town in northeastern Nigeria in the latest in a spate of killings of foreigners in recent months, police said.
The attack in Potiskum also came just two days after gunmen killed at least 10 people in horrifying attacks on two Nigerian polio clinics in a new blow to the campaign to wipe out disease, but it was not clear if the incidents were related.
Yobe State police commissioner Sanusi Rufa'i would not say if the Islamist group Boko Haram, which has been active in Potiskum, was responsible for Sunday's killings, but that the attack was being investigated.
He said unknown attackers scaled the fence of an apartment housing the three doctors at around 1:00 am and slit their throats, initially describing the victims as Chinese.
"Further investigations have shown that the victims were Korean nationals and not Chinese as earlier stated. They were doctors from South Korea," Rufa'i told AFP, in comments confirmed by a senior military official in the state.
Residents said the Koreans, whose bodies were found by neighbours, were employees of the state ministry of health and had been living in the city for one year.
In Seoul, the foreign ministry said it was checking the reports, but noted that few Koreans live in the town.
"The chance that the slain would be Koreans is not high," a foreign ministry official told Yonhap news agency. "But we are checking further related situations via diverse channels."
A local resident said the bodies of the Koreans were found in their room by neighbours who alerted security agents,
"People became worried when the doctors did not open their door in the morning," one resident who did not want to be named told AFP.
He said the victims had their throats slit, but it was not immediately clear if the assailants also came with guns.
"It is still premature to point any accusing fingers but we have commenced an investigation to unravel the killings," said Rufa'i, adding: "No arrest has been made."
Sunday's attack was the latest in a spate of killings of foreigners, especially Chinese nationals, in the country's restive northeast.
In November, gunmen shot dead two Chinese construction workers in nearby Borno State, the stronghold of the Boko Haram extremists.
Three other Chinese nationals have also been killed in separate attacks in the region.
Although no group claimed responsibility for the attacks, they were similar to previous strikes against foreigners by Boko Haram.
Violence linked to Boko Haram is believed to have left some 3,000 people dead since 2009, including killings by the security forces.
The killings in Potiskum, which lies about 100 kilometres (60 miles) from the state capital Damaturu, followed attacks on other health workers in the northern city of Kano on Friday.
Nine women and a man were shot dead in two separate attacks in Kano after a local cleric denounced polio vaccination campaigns and some local radio stations aired conspiracy theories about the vaccine being a Western plot to harm Muslims.
Nigerian President Goodluck Jonathan condemned Friday's killings, describing them as "dastardly terrorist attacks" and vowed to track down the perpetrators.
Boko Haram has claimed to be fighting for the creation of an Islamic state, but its demands have shifted repeatedly and it is believed to include various factions. Criminal gangs and imitators are also suspected of carrying out violence under the guise of the group.
Nigeria, Africa's most populous nation and largest oil producer, is divided between a mainly Muslim north and predominantly Christian south.