Sachet water producers decry imminent collapse of industry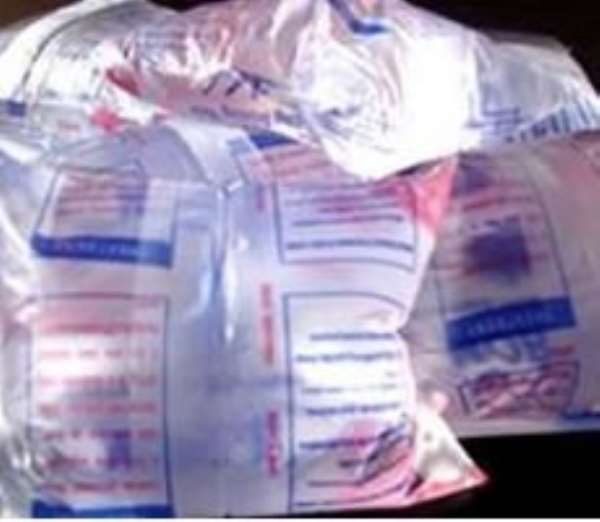 The sachet water industry is being suffocated to a slow death by what producers in the Ashanti region have described as "an unhealthy practice of price competition".
Regional Chairman of the National Association of Sachet and Packaged Water Producers, Frederick Akwasi Berfi, says retailers of the commodity are raking in exorbitant profit at the expense of producers due to price undercutting.
"The sad reality is that our industry which offers so much employment is dying slowly with companies collapsing at an alarming rate for the simple reason of poor pricing", he decried.
The current prices of pure water took effect from August 4, 2011 in the Ashanti region, with a sachet selling at 10 pesewas from the previous 5 pesewas and a retail price of Gh¢1:50p per bag of 30 sachets.
The Association cited rising cost of raw materials and utilities for production and distribution of the commodity for the upward adjustment.
The increment, according to the Association was to help the producers maintain the highest quality standards in production and ensure the companies remains in business.
But some producers flouted the directive and opted to sell below 10pesewas.
A special taskforce instituted to regulate price undercutting had to be withdrawn, following an intervention by the Kumasi Metropolitan Assembly.
The Assembly maintained no group had the right to compel business operators to sell products at a controlled price in a liberal economy.
Vice-Chairman of the Producer' Association, Eric Justice Forson says the political interference has been the bane of the industry.
According to him, new entrants and other producers flaunted regulation and compromised quality to produce at lower cost, to the detriment of public and industry good.
About 80 percent of the over 800 sachet water producers in the Ashanti region belong to the Association.
"Unfortunately there are some of our members who think that they will thrive on the demise of others; that is short sightedness, they're being myopic and such people's attention has to be drawn to the fact that they are equally vulnerable", stated Mr. Akwasi Berfi. "If we don't something about our situation, very soon we'll be out of the market".
Members are scheduled to hold a crucial meeting later this month to evaluate the pricing impact on their operations.


Story by Ghana/Luv FM/Kofi Adu Dumfeh