Risk of election violence in Kenya 'perilously high': HRW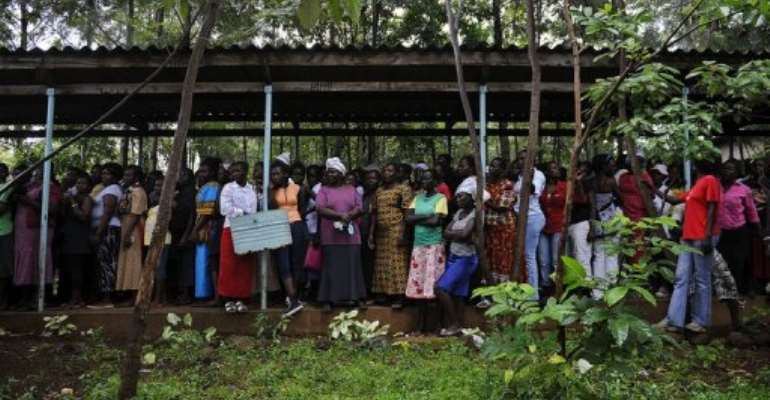 NAIROBI (AFP) - The risk of politically instigated violence in Kenya is "perilously high" ahead of next month's election, the first since bloody post-poll violence five years ago, Human Rights Watch (HRW) warned Friday.
Local communities "are arming themselves" fearing possible violence ahead of the presidential, parliamentary and local elections on March 4, HRW said, citing reports from local non-governmental organisations.
"The underlying causes of past election-related violence remain in place, and in some parts of the country the tensions have escalated," the New York-based rights group said in a report.
"The risk of violence and human rights violations remains perilously high," it added, blaming a failure to implement promised reforms, as well as "abusive or discriminatory conduct" of officials.
The 2007-8 violence shattered Kenya's image as a beacon of stability in east Africa, when what began as political riots quickly turned into ethnic violence that killed some 1,200 people and displaced 600,000 others.
"Violence is not inevitable, but the warning signs are too bright to ignore," HRW's Daniel Bekele said.
At least 477 people were killed and over 118,000 fled their homes due to ethnic violence last year, HRW added.
"The victims of violence feel that justice has passed them by, and the people who caused the violence feel protected from the law," Bekele said. "This is a dangerous cocktail for the approaching elections."
Tensions have been raised by the looming trial at the International Criminal Court (ICC) for key presidential candidate Uhuru Kenyatta for his alleged role in orchestrating murder, rape and violence after 2007 polls.
The trial, set to begin on April 11, could clash with a presidential run-off vote due within a month if -- as many expect -- no candidate wins an outright majority in the first round.
Kenya, whose army is still fighting in Somalia after invading in 2011, has also suffered a spate of grenade attacks and shootings, often blamed on Somalia's Al-Qaeda linked Shebab or homegrown Islamist supporters.
Tensions on the coast also are high, where police have cracked down on Islamist groups as well as a separatists wanting to split the popular tourist region from the rest of Kenya.