NCCE commends electorate for peaceful polls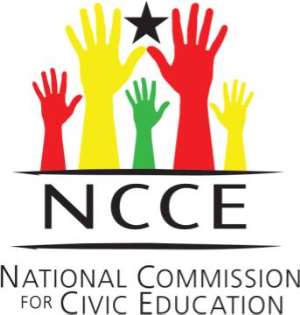 NCCE Logo new
Nkornza (B/A), Feb. 7, GNA - Mr Ishak Dakurah, Nkoranza South Municipal Director of the National Commission for Civic Education (NCCE), has commended the electorate, particularly the youth in the area, for ensuring incident free polls in 2012.
He appealed to party supporters, especially those of the New Patriotic Party and the National Democratic Congress, to be disciplined, unite and work towards the development of the municipality.
Mr Dakurah, who was addressing members of the Inter-Party Advisory Committee (IPAC) of the Municipality at a meeting to discuss post 2012 Election issues, at Nkoranza, noted that the orderly manner the elections were conducted showed that Ghana was making progress in the practice of democracy.
Mr Mohammed Manu Busi, Research Officer at the Brong-Ahafo Regional Directorate of the NCCE, expressed concern about the low number of women in politics, though the Commission has encouraged them to be part of the process, saying:   'though NCCE conducted a survey before the elections, and empowered women to be involved in elections, only a few of them contested the parliamentary election'.
He called on the leadership of political parties to support interested women to contest the assembly, unit committee, area and town council and elections and explained that the involvement of the women in politics would enable them to be part of decision-making process.
Mr Busi expressed appreciation to the IPAC for undertaking extensive education on post-election issues to enhance peace and understanding among the people.
Reverend Peter Nkansah, Pastor of the Bethel Prayer Ministry International Church at Nkoranza, appealed to leaders of religious bodies to remain politically neutral to avoid divisions among the people.
GNA