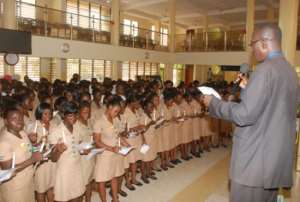 Accra, Feb 7, GNA - A total of 320 students were on Thursday admitted to the Martin Luther Health Training School in Accra, to undergo two-year certificate courses in Health Assistance Clinical, Health Care, Laboratory Technology and ICT training.
Mr George Kumi Kyeremeh, Chief Nursing-Midwifery Officer, Ministry of Health, who administered the matriculation oath to the students, urged them to study hard and graduate as responsible nurses who would help restore confidence into the nursing profession.
'Upon your completion of the course, you should help restore and brighten up our profession, which is now shrouded in negative perceptions in the public domain, by exhibiting the qualities of our noble profession', Mr Kyeremeh said.
He said nurses were special professionals because their work entailed taking care of human lives, which is one of the most challenging responsibilities, and called on nurses to be dedicated to their work.
Dr Owusu Achaw Duah, Founder and Chief Executive Director of the School, which is affiliated with the Weber-State University in Utah, USA, said since its establishment in 2007, it was poised to make significant contribution to health care through excellence and innovation in the training of health professionals and promotion of health care.
Dr Duah, who was a former Head of Department, Ghana Medical School at the Korle Bu Tecahing Hospital, announced that the school would soon introduce midwifery and other allied health courses like physiotherapy, ultrasonography, tertiary diploma in general nursing programmes, and a special ICT resource centre to promote health education as well as long distance and tele-health and tele-medicine practices.
Advertisement
Dr Duah, a former Member of Parliament for Offinso South, stressed that, health and education were rights and not privileges and must therefore be the topmost priority in national development agenda.
He said: 'rapid economic development agenda as pursued by past, present and future governments will not yield positive results, unless this is tied in with good health care training and delivery polices. Without a healthy people, the economic prosperity of the country will be at risk'..
Dr Duah appealed to the Ministry of Health and the GETFUND to assist the school to acquire a bus as well as help the management to acquire soft loans to expand the infrastructure at the school's newly acquired land at Kasoa to cater for the growing school's population.
Ms Alexandrina Addo, Deputy Director of Nursing Services, Kaneshie Polyclinic, in a key note address, asked the students to focus on their studies, and 'allow the school to pass through you so that, like gold you will come out bright'.
Mrs Hajia Balchisu Iddrisu, Principal of the School, advised the students to always remember their matriculation oaths and seriously abide by the rules and regulations of the school.
She said: 'Today marks the beginning of your transformation and learning which will make you more respective, compassionate, efficient and skillful health workers for the dear nation of ours'.
GNA