Islamists open 'new front' in Mali as landmine kills four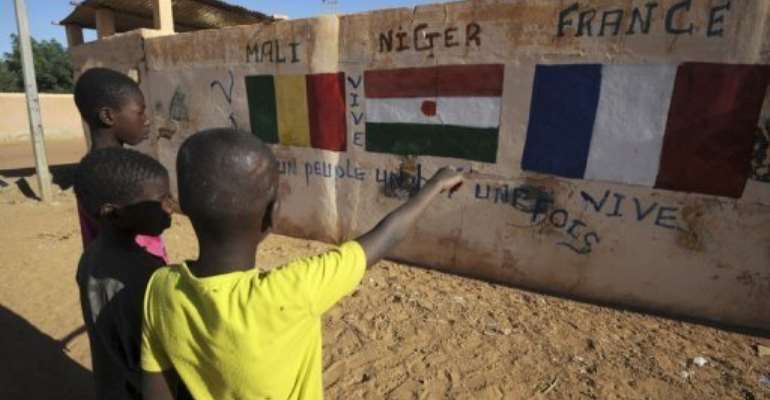 GAO, Mali (AFP) - Islamist rebels chased from their territory by French-led forces in northern Mali said Thursday they had opened a new front in the conflict with guerrilla attacks and landmines, one of which killed four civilians.
The shift to guerrilla tactics by Al Qaeda-linked groups that occupied Mali's vast desert north for 10 months came as France, wary of a prolonged insurgency, looked to hand over its four-week-old intervention to UN peacekeepers.
The deadly explosion Wednesday between the northern towns of Douentza and Gao occurred six days after a similar blast in the same area killed two Malian troops, underlining the danger the Islamist fighters still pose despite fleeing the towns under their control.
An officer with Mali's paramilitary police said the mine was "placed by the Islamist criminals".
An official with a local truck drivers' union confirmed the incident.
The Movement for Oneness and Jihad in West Africa (MUJAO), one of the Islamist groups fighting the French-led forces, said it had "created a new combat zone" by organising attacks on military convoys and placing landmines.
"MUJAO is behind the explosion of two Malian army cars," the group's spokesman Abu Walid Sahraoui said in a text message to AFP.
He called on Malians to stay away from main roads, which he said had been heavily mined.
"We urge infinite jihad and a struggle against infidel regimes and the establishment of God's sharia and for Muslims to be freed," he added.
Nearly a month after France sent in the first fighter jets and attack helicopters, its intervention has largely driven the rebels into the remote mountains of the far northeast, stopping their threatened advance on the capital, Bamako.
But French-led forces continue to come under attack in reclaimed territory, including rocket fire directed at them Tuesday in Gao, the largest city in the north.
Large numbers of French, Malian and Nigerien troops have been patrolling Gao, and French helicopters have been surveilling the road between Gao and Douentza, 400 kilometres (250 miles) to the southwest.
In the northeastern region of Kidal, French warplanes continue to pound the area around the Adrar des Ifoghas massif, a craggy mountain landscape honeycombed with caves where the insurgents are believed to have fled with seven French hostages.
"Air operations are ongoing. The strikes are essentially concentrated in the region north of Kidal and in the area of Tessalit" near the Algerian border, said army spokesman Thierry Burkhard.
-- Three in four French support intervention --
Paris is keen to hand over the military burden of an operation the defence ministry said has already cost France 70 million euros ($95 million), with the figure rising by 2.7 million euros per day.
France now has 4,000 troops in Mali, as many as it had in Afghanistan at the peak of its deployment in 2010.
After announcing plans to start withdrawing its soldiers in March, France called Wednesday for a United Nations peacekeeping force to take over.
Foreign Minister Laurent Fabius said a peacekeeping force could be in place by April, incorporating troops being deployed under the banner of a West African intervention force into a UN mission.
The Economic Community of West African States (ECOWAS) is slowly deploying some 6,000 troops in Mali, joined by another 2,000 from Chad.
The French defence minister said Tuesday the operation had so far killed "several hundred" Al-Qaeda-linked militants.
France's sole fatality so far has been a helicopter pilot killed at the start of the operation. Mali said 11 of its troops were killed and 60 wounded in early fighting, but has not released a death toll since.
An opinion poll released Thursday by survey firm IFOP found 73 percent of French support their country's intervention in the former colony, the highest level of support for an overseas military operation in 20 years.
In Cairo, the Organisation of Islamic Cooperation expressed support for efforts to help Mali "regain its territorial integrity", an apparent nod of approval for France's military intervention.
The OIC summit also slammed the "despicable actions committed against civilians... and the destruction of cultural sites" -- a reference to the Islamist rebels' destruction of ancient Muslim saints' shrines in northern Mali, which they considered idolatrous.
OIC members Egypt and Qatar had previously criticised France's intervention.