Musician jailed 10 years for causing harm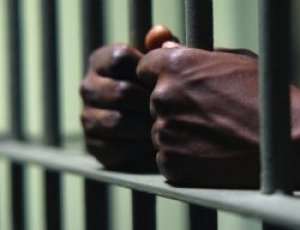 Jail Man
Accra, Feb. 7, GNA - An Accra circuit court on Thursday sentenced Isaac Opoku Kwakye, a musician, to 10-years imprisonment for causing harm to a driver in his bid to snatch his car.
Kwakye, believed to be in his mid 20s, pleaded guilty to the charge of causing harm and the court, presided over by Mr Francis Obiri, convicted him on his own plea.
He, however, denied the charge of attempt to commit crime to wit robbery.
Prosecuting, Deputy Superintendent of Police (DSP) P.A. Morkeh, said the complainant was Mr William Yeboah.
DSP Morkeh said on January 31, this year, at about 8:30 pm, the accused hired Mr Yeboah's KIA Pride with registration number GR 1648-X from Kwashieman to Palas Town, near Anyaa.
Prosecution said on reaching a section of the road at Palas Town, Kwakye pleaded with the complainant to stop so he could make a phone call.
While waiting behind the steer with the engine off, Kwakye, who also sat behind the complainant, held Mr Yeboah's neck in an attempt to strangle him and snatch his car.
DSP Morkeh said a struggle ensued between Kwakye and Mr Yeboah who jumped out of the front window with the car keys in his pocket.
As he fell on the ground, Kwakye pounced on the complainant and attempted to collect the car keys from him but when the complainant proved difficult, Kwakye smashed the complainant's head and body with a stone several times.
Prosecution said a witness, who saw the struggle between the complainant and Kwakye, rushed to the scene to rescue the complainant.
In the process, Kwakye was arrested and when he was searched a small bag containing a knife, a toy pistol, powdered pepper, blade, glue and a cellotape were found.
GNA