Endowment fund launched to finance new automobile village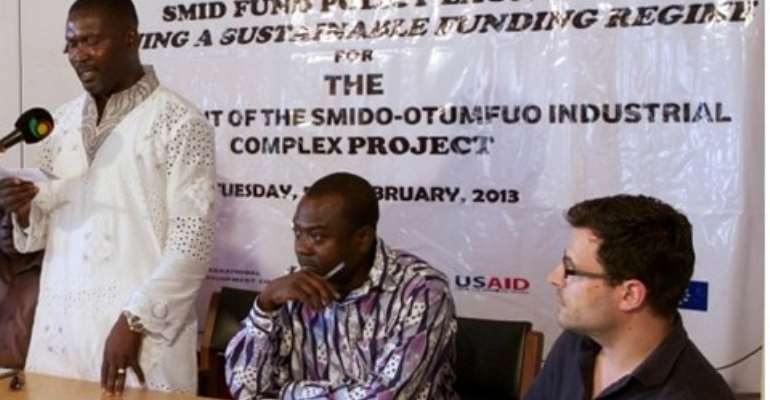 The Suame Magazine Industrial Development Fund (SMID-Fund) has been launched to source funding for the SMIDO policy blueprint in transforming the Suame light industrial area into a modern automobile enclave.
SMIDO is seeking corporate partnership arrangements to secure a 1000 acre land at Kodie near Kumasi to implement its flagship industrial project dubbed "the SMIDO-Otumfuo Industrial Complex project for Suame Magazine".
According to the Project Consultant, Nyaaba-Aweeba Azongo, "the principal objective of the SMID Fund is to facilitate the re-location of Suame Magazine into a self-inspired well-built modern industrial estate to accommodate the artisans of Suame Magazine".
He added the project will provide trade, investment, pension and insurance needs, financial and business advisory services to the members of Suame Magazine "to promote enterprise development, trade and investment initiative to stimulate the commercial operation of enterprises under Suame Magazine".
The SMID Fund is intended to be an endowment fund in which the principal money will be held in perpetuity and invested; only the return on investment would be used in line with an agreed formula for disbursement by a Board of Trustees.
Mr. Azongo said a Corporate Syndicate Manager would be engaged to coordinate corporate arrangements under the SMID Fund to build a comprehensive fiscal regime for Suame Magazine in the first- phase of five-years.
According to him, the Syndicate Manager shall be required to offer GHc500,000 as a formal partnership commitment to begin the process of acquiring the 1000acre land.
The President of SMIDO, George Asamoah Amankwa, entreated corporate players particularly those in the financial sector to support the Fund.
He also called on government and leaders of the various associations of Suame Magazine to ensure that the desired cooperation is attained for the successful execution of the SMID Fund which is intended to transform Suame Magazine to drive Ghana's quest for industrialization.


Story by Ghana/Luv Fm/Kofi Adu Domfeh