Iberia Unveils New Products, Services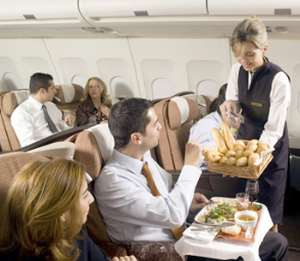 http://www.dailyguideghana.com/wp-content/uploads/2013/02/iberia_airways.jpg Spanish airline Iberia has unveiled new products and services, which would be rolled out at the 2013 Fitur holiday fair in Madrid, Spain.
These innovations include its all-new Business and Economy class sections in the airline's long-haul fleet, a makeover of the www.iberia.com website and major improvements at its T4 hub in Madrid-Barajas airport.
The biggest innovations however are the new seating sections which passengers can enjoy starting in February with the delivery of the first of eight new Airbus A330s to be incorporated through March 2014.
The new Airbus A330s burn some 15 per cent less fuel than the A340-300s they replace. Iberia's A330-300s will come with 36 Business class and 242 Economy class seats.
Ghanaian passengers can make easy connections at the T4 from Accra to Iberia's 31 destinations in Spain, 27 cities in Europe and 23 destinations in the Americas (5 in the United States and 18 in Latin America)
Iberia, a partner airline of British Airways, began operations in Accra in June 2012.
In a statement issued recently in Accra, the airline said starting in May, the cabins of Iberia's long-haul A340-600 fleet would be refitted with the new seating sections; 46 Business class and 300 Economy class seats.
'The A330s will be used on flights to and from New York, Miami, Chicago, Boston and Luanda (Angola) while the A340-600s will fly to Los Angeles and to Iberia's Latin American destinations,' the statement said.
'The extra-wide Business Plus seats unfold into perfectly flat beds nearly 2 metres long and are housed in individual modules, each with direct access to the aisle. The design and positioning of the new seats ensure greater privacy and comfort to passengers as they work, relax or sleep.'
Business Plus customers would also enjoy new, intuitive entertainment options using 15.5' screens similar to that of tablet computers, plus 4.2' touch screen remotes with virtual keyboard, with which passengers can make telephone calls, send text messages and easily access entertainment options.
Each month some 50 feature films will be available, plus television series, documentaries, some 200 musical options and 3D games, among many other choices.
Iberia would also soon be adding Wi-Fi Internet access and SMS capability for all its long-haul customers, and both Business and Economy class seats will feature power and communications jacks for passengers' electronic devices.
In 2013, www.iberia.com site is to undergo a complete makeover, with improvements to contents and greater ease of browsing.
Iberia will also work on 'socialising' its website, with the aim of connecting its more than 34 million visitors to the nearly 1.3 million followers of its social network profiles.