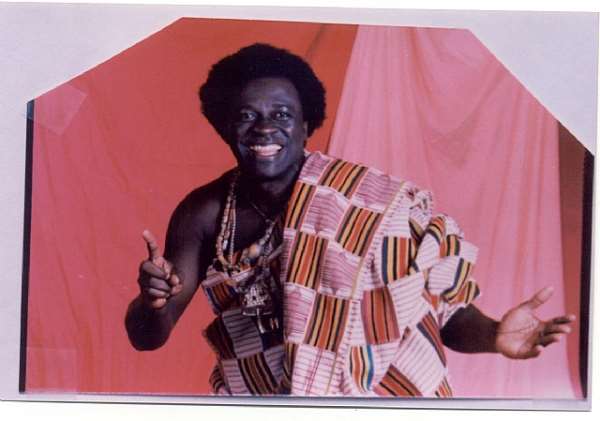 MADE IN THE IMAGE OF THE JEW or How Today's Continental/Diaspora Afrikans are Turning Themselves into the Photocopies of a Jewish Prophet;
By Copyright ©2013 Prof Afrikadzata Deku, [email protected];
*HE WORSHIPS A JEWISH PROPHET HE CALLS "MY GOD, MY LORD AND SAVIOUR" BUT
CANNOT IMAGINE HIMSELF BELIEVING IN
HIS OWN CONTINENTAL AFRIKAPROPHET HE IS

PROGRAMMED TO REJECT AS IMPOSSIBLE OR UNNECESSARY TO HAVE.
*PRAYS TO GOD OF ISRAEL BUT CONSIDERS IT A BLASPHEMY FOR HIM TO
PRAY TO THE GOD OF CONTINENTAL AFRIKA HE IS TOTALLY KEPT IGNORANT OF.
*WORSHIPS WITH PRIDE THE GOD OF ABRAHAM, THE GOD OF ISAAC AND THE GOD OF
JACOB BUT CONSIDERS IT A SIN TO WORSHIP THE GOD OF HIS HOLY CONTINENTAL
AFRIKAANCESTORS HE IS TAUGHT TO REJECT AS STONE WORSHIPERS.
*CALLS A JEWISH RELIGIOUS STORY THE FINAL HOLY WORD OF GOD TO MANKIND OR
HOLY BIBLE BUT CANNOT IMAGINE AN AFRIKAPEOPLE RELIGIOUS STORY IN AFRIKAHOLY BIBLE
WHICH HE WILL BE THE FIRST TO DISMISS AS UNTRUE FOR HIM TO READ.
*PRAYS TO THE CREATOR THROUGH A JEWISH INTERMEDIARY BUT
CONDEMNS AS PAGANISM, CONTINENTAL AFRIKANS PRAYING TO
THEIR OWN CREATOR AFRIKAMAWU THROUGH
THEIR CONTINENTAL AFRIKASAINTS AS
SACRED INTERMEDIARIES BETWEEN THEM AND THE CREATOR.
*SAYS HEAVEN IS IN THE SKY EVEN IF HE KNOWS HEAVEN IS EVERYWHERE THE
CREATOR AFRIKAMAWU IS, INCLUDING
WITHIN HIM AND IN EVERYTHING.
*SAYS HE WILL GO TO HEAVEN WHEN HE DIES BUT
HE FEARS TO DIE ALL THE SAME.
*GOES TO CHURCH EVERY SUNDAY TO BE PERPETUALLY TOLD HE IS
A BORN SINNER AND A SINNER HE WILL DIE NO MATTER HOW MUCH GOOD HE DOES IN LIFE.
HE COMES BACK HOME FULLY CONVINCED AND PROGRAMMED TO ACCEPT THE LIE THAT A SINNER
HE IS BORN TO BE AND A SINNER HE WILL DIE NO MATTER HOW MUCH GOOD HE DOES IN LIFE
*SO, HE BEGINS TO THINK LIKE A SINNER, SPEAKS LIKE A SINNER, ACTS LIKE
A SINNER AND SO BECOMES A SINNER EVEN IF HE IS NOT.
*GIVES MONEY TO HIS PRIEST WHO TELLS HIM HIS SIN WILL BE FORGIVEN NOT BY THE PERSON HE
WRONGS OR OFFENDS OR HURTS BUT
BY A JEWISH SAVIOR WHO IS NOT THE CAUSE OF HIS SIN OR CRIME
*THIS IS DONE TO MAKE SURE HIS SIN IS NEVER FORGIVEN SO AS TO KEEP HIM COMING BACK
OVER AND OVER TO CHURCH FOR HIS MONEY.
*THE MORE HE GOES THERE TO BEG FOR FORGIVENESS OF HIS SIN, THE MORE
HE IS TOLD HE IS A SINNER NO MATTER HOW MANY TIMES HE HAS BEEN TOLD HIS SIN HAS BEEN
FORGIVEN BY HIS JEWISH SAVIOR.
*PROGRAMMED TO BELIEVE IN A JEWISH PROPHET AS THE ONLY TRUTH , THE ONLY LIGHT AND THE
ONLY WAY TO THE CREATOR WHOM
HE KNOWS IS EVERYWHERE, IN EVERY CREATION AND WITHIN THE REACH OF ALL LIVES.
*PROGRAMMED TO SWEAR THAT THERE IS ONLY ONE WAY TO THE CREATOR WHO IS EVERYWHERE
AND WITHIN THE REACH OF CREATION IS TO LIE THAT
THERE IS ONLY ONE ROAD GOING TO ACCRA OR PARIS OR WASHINGTON OR LONDON.
*BELIEVES IN ALL HIS HEART THAT HE CAN ONLY BE SAVED BY A JEWISH PROPHET WHOM NOBODY
SAVES BUT HIMSELF.
*BELIEVES STRONGLY THAT A JEWISH PROPHET IS THE ONLY SAVIOR OF THE WORLD EVEN IF HE
KNOWS BEFORE HIM
THERE WERE HISTORICALLY AND FACTUALLY SIXTEEN FLESH AND BLOOD SAVIORS OF
THE WORLD, ALL BORN BY VIRGIN MOTHERS, PERFORMED MIRACLES, CRUCIFIED ON THE CROSS
FOR SPEAKING THE TRUTH.
ALL WERE
BURIED AND ON THE
THIRD DAY , RESURRECTED FROM THEIR TOMBS AND
ASCENDED TO HEAVEN IN THE SAME WAY AS THEIR JEWISH SAVIOR DID.
*ABSOLUTELY REFUSES TO KNOW OR ACCEPT THE FACT THAT CHRIST IS NOT THE NAME OF JESUS
OF NAZARETH BUT A TITLE ANYBODY INCLUDING HIMSELF CAN LEARN AND ATTAIN.
*PREFERS CHRISTIANITY FOUNDED ON THE TEACHINGS OF A JEWISH MAN-INITIATED INTO
AFRIKAMYSTERIES IN ANCIENT EGYPT TO
HIS OWN ANCIENT SACRED AND HOLY CONTINENTAL AFRIKARELIGION OF AFRIKANITY HE IS KEPT
TOTALLY IGNORANT OF AND
FROM WHICH HIS CHRISTIANITY IS DERIVED.
*PREFERS PRAYING TO THE CREATOR THE JEWISH WAY TO PRAYING TO HIS CREATOR
AFRIKAMAWU, THE CONTINENTAL AFRIKAWAY WHICH
HE REJECTS AS "LIBATION" OR SUPERSTITION OR STONE WORSHIPPING.
*NAMES HIMSELF AFTER JEWISH ANCESTORS HE CALLS "MY HOLY ANCESTORS" AND
SAYS HIS CONTINENTAL AFRIKASAINTS CANNOT
BE AS HOLY AS ABRAHAM.
*BELIEVES JERUSALEM IS NOT A JEWISH TOWN ON EARTH BUT IN HEAVEN WHERE
HE WILL GO WHEN HE DIES.
CALLS ISRAEL MY HOLY LAND TO VISIT, PRAY FOR AND REVERE AS THE HOLY LAND OF HIS JEWISH
GOD AND ANCESTORS.
*REFERS TO HIMSELF AS THE ORIGINAL ISRAELITE, HEBREW, JEW OR THE CHOSEN ONE OF
HIS JEWISH GOD AND SAVED FROM
THE HELL OF AFRIKA INTO THE PROMISED LAND OF MILK AND HONEY.
*TOLD TO FORGET ABOUT THE RICHES OF THIS WORLD WHILE HIS VATICAN AND CHURCH
LEADERS ARE
BUSY EMPTYING ALL THE TREASURES OF HIS AFRIKA IN
THE NAME OF HIS JEWISH RELIGION HE CALLS CHRISTIANITY.
*THINKS IT IS A GREAT BLESSING FOR HIM TO SUFFER HERE SO AS TO
ENJOY TOMORROW, HEAVEN IN THE SKY WHEN HE DIES.
*TOLD HE CAN ONLY SEE THE CREATOR WHEN HE DIES AND YET THE CREATOR IS WITHIN HIM AND
EVERYWHERE FOR ALL/HIM TO SEE EVERY BLESSED DAY.
*TOLD WHEN HE DIES HE WILL BE JUDGED BY THE CREATOR UNLESS HE IS SAVED BY A JEWISH
PROPHET FORGETTING THAT THE CREATOR DOES
NOT JUDGE US BUT OURSELVES ON THE LIFE'S SCALE OF
THE POSITIVE OR NEGATIVE DEEDS WE DID WHEN ALIVE.
*TOLD WHEN HE DIES HE WILL BE TAKEN TO HEAVEN BY THE CREATOR ONLY IF
HE BELIEVES IN A JEWISH PROPHET AS HIS SAVIOR FORGETTING, HEAVEN IS
THE GOOD WORKS WE SOW AND REAP HERE AND AFTER.
*TOLD WHEN HE DIES HE WILL BE SENT TO HELL BY THE CREATOR IF HE
IS NOT SAVED BY A JEWISH PROPHET FORGETTING THAT
HELL IS THE BAD WORKS WE SOW AND REAP HERE AND AFTER.
*TOLD WHEN HE DIES HE WILL BE RESURRECTED BY
THE CREATOR IF HIS SINS ARE FORGIVEN BY A JEWISH PROPHET WHOM
NOBODY RESURRECTS
EXCEPT HIS OWN SPIRIT LEAVING HIS BODY (TOMB) TO HEAVEN (HIS DIVINE SOURCE) OF
WHICH HIS SPIRIT WAS PART AND PARCEL OF BEFORE AND
AFTER HE WAS BORN IN THE FLESH AS A DIVINE SPIRIT IN THE HUMAN FLESH.
*TOLD WHEN HE DIES HE WILL BE GRANTED LIFE EVERLASTING BY
THE CREATOR ONLY IF
HE BELIEVES IN
A JEWISH PROPHET FORGETTING THAT
NOBODY CAN GRANT IMMORTALITY TO A SPIRIT THAT
COMES AND LEAVES THE BODY AS IMMORTAL SPIRIT OF
THE CREATOR AFRIKAMAWU IN MANIFESTATION ON EARTH.
*STILL CLINGS ON TO HIS JEWISH PROPHET AS
HIS SAVIOR EVEN IF NINETY-NINE PERCENT OF
HIS OWN JEWISH PEOPLE DO NOT
ACCEPT OR BELIEVE IN
HIM AS THEIR SAVIOR IN SPITE OF HIS CLAIM HE WAS
SENT TO SAVE FIRST HIS JEWISH PEOPLE.
*STILL BELIEVES AND CALLS HIS
CHURCH THE CREATOR'S HOLY TEMPLE EVEN IF
THINGS GET STOLEN THERE AS
QUICKLY AS THEY ARE FORGOTTEN THERE.
*STILL BELIEVES CHRIST IS THE REAL NAME OF
HIS JEWISH PROPHET RATHER THAN
THE HIGHEST SPIRITUAL TITLE FOR
ANYONE WHO HAS ACHIEVED
TOTAL ONENESS WITH
THE CREATOR AFRIKAMAWU OF
OUR CONTINENTAL AFRIKARELIGION OF
AFRIKANITY OF WHICH HE/SHE IS
TOTALLY KEPT IGNORANT FOR
HIS/HER LOSS IN THE HELL OF HIS ALIEN RELIGION.
*BUT SOON, WHETHER HE/SHE LIKES IT OR NOT, THE
GLORIOUS INEVITABLE CONTINENTAL AFRIKASUN OF
OUR AfrikaCentric TRUTH SHALL ARISE TO SAVE HIM FROM
THE MOUNTAIN OF MAN-MADE
LIES AND IGNORANCE OF
RELIGIOUS COLONIALISM THAT
MAKES HIM PREFER THE HELL OF
HIS ALIEN RELIGIOUS BRAINWASHING TO
THE HEAVEN OF HIS CONTINENTAL AFRIKARELIGION OF
HIS
CREATOR
AFRIKAMAWU
HE KNOWS NOTHING OF.
PROF. AFRIKADZATA DEKU, Docteur d'Etat, PhD & KADA FOUNDER; Doctorat d'Etat (Ph.D.) * D.E.S.S. (M. Phil) * Diplome De L' I.I.A.P. (Post-Grad. Dipl.) * M.Sc. * BA. Double Majors * ;
182 Stribling Circle, Spartanburg, SC.29301, USA. * Tel: 1 864 576 7992, eFax: 1 775 295 9699;
Emails: [email protected] ; [email protected] ; [email protected] ; [email protected]; [email protected], [email protected]; ;
*SKYPE : AFRIKAPHARAOH or WindowsLiveID: AFRIKAPHARAOH* ;
URLs:http://www.afrikacentricity.com; http://www.youtube.com/profafrikadzatadeku *http://cid-4d3310fc746b4eaf.photos.live.com/albums.aspx ; http://afrikanitychurch.webs.com ; http://www.myspace.com/profafrikadzatadeku; http://afrikacentricitybooks.blogspot.com/;;