Tunisia opposition chief killed, pledge of new government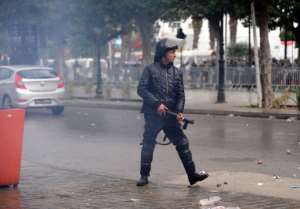 A Tunisian riot officer looks on at protestors during a rally outside the Interior Ministry on February 6, 2013. By Fethi Belaid (AFP)
TUNIS (AFP) - Prominent Tunisian opposition leader Chokri Belaid was shot dead on Wednesday, sparking deadly protests, attacks on offices of the ruling Islamist Ennahda party, and the pledge of a new government of technocrats.
Furious protesters built barricades in central Tunis and clashed with police, and four opposition groups including Belaid's Popular Front bloc said they were pulling out of the national assembly.
One policeman was killed after being hit on the chest by rocks in Tunis, the interior ministry said.
President Moncef Marzouki denounced the killing of Belaid, an outspoken critic of his government, as an "odious assassination," while Ennahda chief Rached Ghannouchi told AFP the killers wanted a "bloodbath."
Islamist Prime Minister Hamadi Jebali said in a televised address after the murder that he would form a government of technocrats.
"I have decided to form a government of competent nationals without political affiliation, which will have a mandate limited to managing the affairs of the country until elections are held in the shortest possible time," he said.
Jebali did not specify that he was dissolving the existing government, nor did he set a date for the reshuffle, which must be confirmed by the national assembly.
The United States and other Western nations reacted with dismay at Belaid's killing.
"There is no justification for an outrageous and cowardly act of violence like this. There is no place in the new Tunisia for violence," US State Department spokeswoman Victoria Nuland said.
German Foreign Minister Guido Westerwelle expressed his "horror" and "sadness," while French President Francois Hollande said: "This murder robs Tunisia of one of its most courageous and free voices."
A British statement called it a "cowardly and barbaric act aimed at destabilising Tunisia's democratic transition."
Human Rights Watch said the authorities should ensure those responsible are brought to justice, and Amnesty International said the killing should prompt an independent and impartial investigation.
Belaid's murder sparked outrage, with violence reminiscent of the uprising that ousted veteran dictator Zine El Abidine Ben Ali just over two years ago, and thousands protesting outside the interior ministry.
The four opposition parties demanded Interior Minister Ali Laraydeh's sacking, blaming him for Belaid's murder "because he knew he was threatened and he did nothing," said Nejib Chebbi, leader of one of the groups.
The family of Belaid, who headed the Party of Democratic Patriots, part of the Popular Front, accused Laraydeh's Ennahda of being behind the assassination.
The wife of the 48-year-old leftist leader said her husband had received daily death threats and was murdered before her eyes.
"I saw his blood flowing, I saw his little smile. I saw that they want to kill democracy," Basma Belaid told France's Europe 1 radio.
Belaid's brother Abdelmajid bluntly accused the Ennahda chief of murder.
"I accuse Rached Ghannouchi of assassinating my brother," he told AFP.
Ghannouchi rejected claims Ennahda was behind the "cowardly" murder, and told AFP the killing was a "settling of political scores."
The killers "want a bloodbath but they won't succeed," he said.
Last week Belaid accused Ennahda "mercenaries" of attacking his supporters.
On Tuesday he warned of "attempts to dismantle the state and the creation of militias to terrorise citizens and drag the country into a spiral of violence."
His supporters flooded the streets of Tunis and other cities, including Sidi Bouzeid, birthplace of the 2011 revolution.
In central Tunis a tank fired tear gas at protesters who built makeshift barricades on Habib Bourguiba Avenue.
In Sidi Bouzeid, about 200 people tried to storm police headquarters, prompting police to fire tear gas and army intervention.
Protesters torched the Ennahda office in Mezzouna near Sidi Bouzeid, ransacked another in Gafsa and set fire to a party office in the northeastern town of Kef.
In Kasserine, on the border with Algeria, hundreds of people calling for "vengeance" took to the streets.
Marzouki deplored the killing in an impassioned speech at the European Parliament.
"This odious assassination of a political leader who I knew well and who was my friend... is a threat, it is a letter sent that will not be received," Marzouki said, insisting the murder would not plunge Tunisia into violence.
Belaid's Popular Front along with the opposition Call of Tunisia, Al Massar and Republican Party also called for a general strike.
Belaid, whose funeral will be on Friday after the main weekly prayers, was a populist known for his iconic smile and black moustache.
A lawyer who spoke with the working class accent of northwestern Tunisia, he defended human rights, was jailed under Ben Ali and ex-president Habib Bourguiba, and was a member of executed Iraqi dictator Saddam Hussein's defence team.